Creative Classrooms is committed to developing community in student populations through arts integration. By kinesthetically engaging with literature, students develop a profound understanding of narratives, themes, and messages the stories evoke. We work with students over the course of a 4-day residency, to foster spaces of creativity and academic rigor through the arts.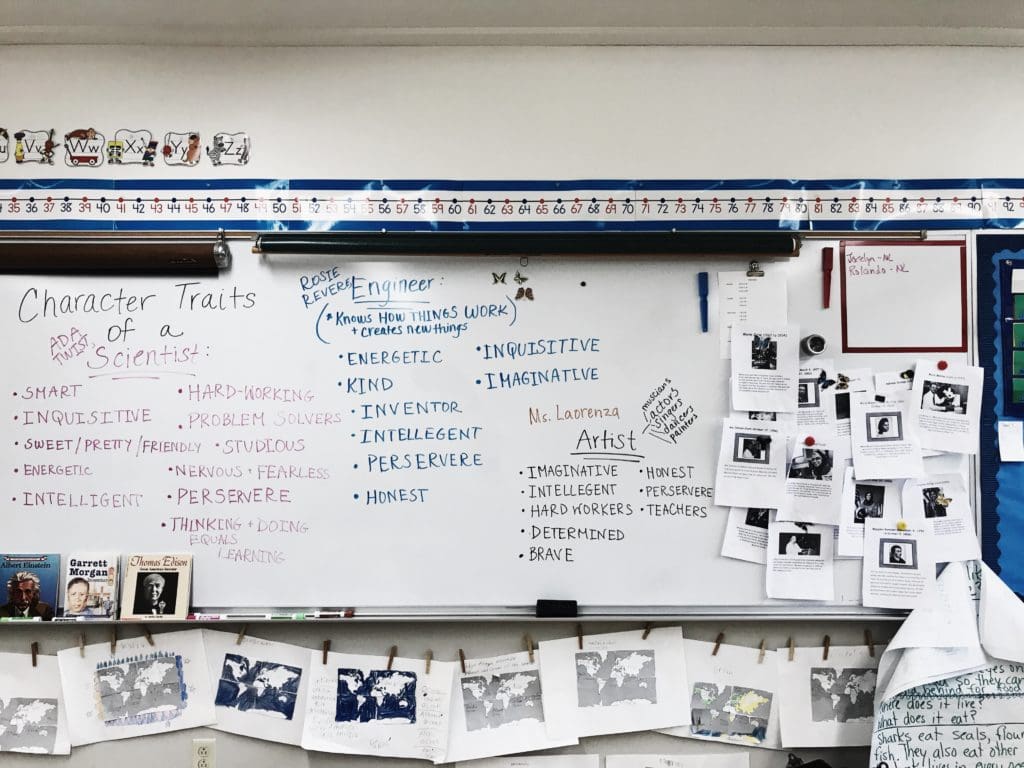 About the Program
Creative Classrooms is an arts integration program focused on building community and developing student's 21st Century Skills. Trinity Rep's education staff partners with the Providence Public School District to provide in-school residencies based on common core curriculum.
Arts integration pairs the content and skills from an artistic form with those of a core subject. Emphasis rests equally on the core subject and art form to allow accessible learning through multiple modalities. Teaching artists create arts-based workshops and residencies founded on Common Core standards and aligned with classroom curriculum. The program is integrated into the individual class's current curriculum. By building off of the teacher's needs and guiding questions, we tailor each lesson to each individual classroom to ensure the material supports the student's academic endeavors rather than distracting from them.
We are committed to serving elementary school populations. Studies show that students from grade 1 to 3 develop the majority of literacy skills they need in order to be successful in their educational careers. These grades are a critical period in a student's life and if they are not supported properly, they can develop a plateau in their academic achievement.
Creative Classrooms works to ensure its students gain drama skills that offer them alternative ways to comprehend literature in the classroom.
We primarily engage with english language learners and bilingual classrooms, as we believe kinesthetic engagement paired with literature is capable of transcending language barriers in the classroom and developing a deep understanding of the given content. Creative Classrooms allows these populations particularly to engage with literature in an enriching and empowering way.
The program focuses on building community and developing a positive classroom climate by introducing the main actor's tools of body, voice, and imagination with the opportunity to develop their teamwork and focus skills. Students participate in activities that develop the social and emotional competencies of critical thinking, problem solving, self-management, and social awareness. At the core of every lesson, we encourage students to respect their peers regardless of their identity or background. Students develop an understanding of how to use their thoughts, bodies, and voices to show that they value and respect their community. Most importantly, they are given opportunities to reflect upon their own identities in order to understand their own role and place in their community.
History
Creative Classrooms began a pilot program with Asa Messer Elementary School in 2014 in partnership with the Providence Public School District, visiting their 1st and 2nd grade classrooms for a week-long residency. Through a generous grant from Hasbro Children's Fund, Inc we have expanded Creative Classrooms and now reach 24 classrooms and over 600 students in five schools in the Providence Public School District.
Timeline:
Creative classrooms began working with Asa Messer Elementary school, offering two residencies to 1st and 2nd grade classrooms.
Continuing the amazing partnership with Asa Messer Elementary School, the program expanded to Carl G. Lauro Elementary School offering two residencies to the 3rd Grade. Lauro students were also able to take a field trip Trinity Repertory Company and perform on the theater's stage.
Due to generous founding, Creative Classrooms was able to reach all of the 3rd grade classrooms at Carl G. Lauro Elementary School. The program was able expand to 3rd grade classrooms at Asa Messer Elementary School, while continuing lessons with 2nd and 1st grades reaching a total of 500 students.
This has been the programs most ambitious year as we are currently in 5 different schools, offering at least two residencies for every grade. Creative classrooms has and will continue to work with Asa Messer Elementary School's 1st and 2nd grade classrooms as well as 2nd and 3rd grade classrooms at Carl G. Lauro Elementary School. The program has newly been introduced to Alan Shawn Feinstein Elementary at Broad Street and Frank D. Spaziano Elementary School. In our fourth year, we have been able to expand the program to 9th Grade English Classes at The Newcomer Academy. The program now proudly works with 24 classrooms reaching over 600 students.
In the Classroom
Below are brief descriptions of lessons that were conducted in classrooms, with great success:
Creative Classrooms designed this lesson to introduce second grade students to a type of folktale called trickster tales. After acting the story out, students were challenged with recalling the story events and deciding whether they agreed or disagreed with the protagonists' actions. They dealt with the complex theme of how to handle an unfair situation and were able to form and communicate their own opinions.
Creative Classroom students in second grade engaged with two different stories about how ordinary kids can become extraordinary scientists using the theater technique of tableau. They challenged their traditional perceptions of scientists by learning about scientists of color in history, exploring character traits, and creating their own character.
Throughout this lesson first grade students reflected on their own identities by creating tableaux, drawing maps of their neighborhoods, and self-portraits with their own character traits. The students recalled events of the story by engaging in a group retelling of the story, exploring how people in a neighborhood respond to a foreign family moving in. They identified internal and external characteristics and came to understand that people should be respected no matter what they look like.
During this lesson, third grade students engage in non-fiction passages about different environments in nature. By physicalizing different environments through sound and movement after reading informational passages, students were able to identify environmental problems. In learning about problems in the environment, they worked to write and perform public service announcements on Trinity Repertory Company's stage responding to their problem to advocate for more sustainable lifestyles.
Support
Creative Classrooms is able to support over 500 students thanks to generous funding from the Hasbro Children's Fund, Inc. If you are interested in supporting our program feel free to donate to Trinity Repertory Company here!
Questions? Contact education@trinityrep.com