In June 2020, Trinity Rep commissioned artists to continue the public-art-as-activism activity that began to appear on plywood-covered storefronts and businesses after the Black Lives Matter protests. The protests followed the murders of George Floyd, Breonna Taylor, and many others who have yet to receive justice.
Local artists Jess Brown, Angela Gonzalez, and Kendel Joseph were selected for the project. Their work was installed at Trinity Rep's Lederer Theater Center on Washington St. The art is now on view on the exterior and interior of Trinity Rep's building.
Artist: Jess Brown
Subjects: Diahann Carroll, Harry Belafonte
Artist Statement:
"I wanted to choose subjects that have a connection to both the theatre and the Black community. Both icons were groundbreakers in their industry. In 1954, Mr. Belafonte made history as the first Black actor to win a Tony Award for Best Featured Actor in a Musical, John Murray Anderson's Almanac. Ms. Carroll made herstory by becoming the first Black woman to win a Tony Award for Best Actress in a Musical for her performance in No Strings in 1962.
"Ms. Diahann Carroll was a star of stage and screen, gracing the multi generations of television viewers with several iconic roles including Julia; where she was the first black woman to star in her own show (and she was a professional woman, not a maid or domestic); Claudine, for which she was given a best Actress nomination; Dynasty, (my personal favorite) where she played Dominique Devereux – the first Black B#($@ on television; and on A Different World where she played Whitley Gilbert's classy and over-bearing mother. Her beauty and elegance is bar none.
"Mr. Belafonte has been a civil rights activist since the 50's, supporting Dr. "Martin Luther King and the movement financially, professionally and physically. He still continues his Civil Rights and Humanitarian work today. I had the pleasure of seeing him speak at RISD in 2013 and seeing his daughter speak in 2019 where I learned about Sankofa and the Beloved Community. Sankofa.org is a social justice organization founded by Harry Belafonte that enlists the support of today's most celebrated artists and influential individuals in collaboration with grassroots partners to elevate the voices of the disenfranchised and promote justice, peace, and equality. His words and actions personally influence my artistic and professional practice today.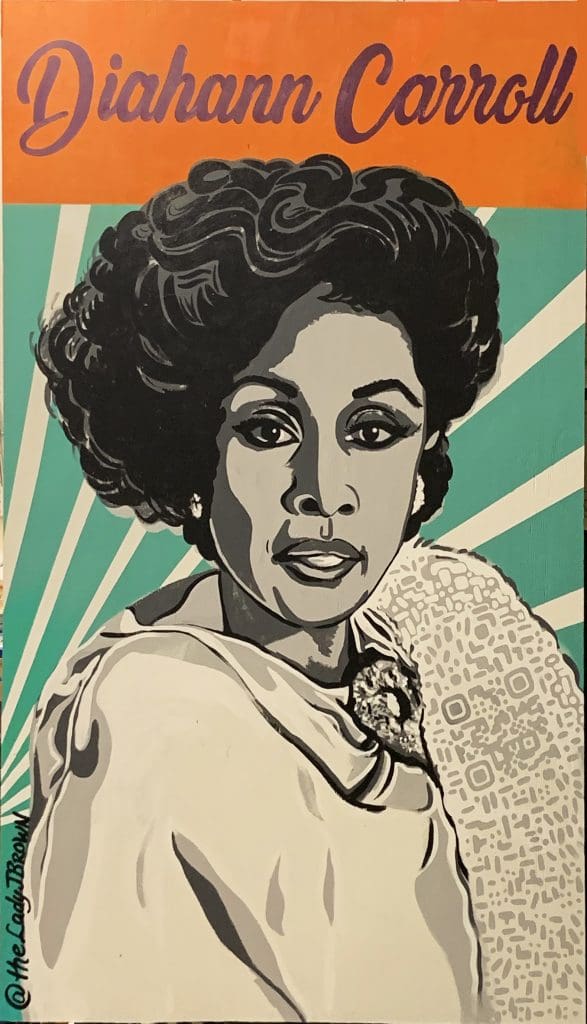 "You'll notice that I have integrated their names into the artwork because I don't want to assume that everyone will know who these icons are. While it was common knowledge in my household and community, I don't want to take that for granted and miss a chance to educate the public or younger audiences. There are also QR codes embedded in each painting. When you take a photograph of the image, it will invite you to come in closer. As you do, it will lead you to a website where you can learn more about each of these wonderful Black actors."
Jess recently worked with the Avenue Concept on the Vote Mural (the "O") on 1 Ship Street. More of her work can be seen on Instagram @theladyjbrown and on her website: theladyjbrown.com.
Artist: Angela Gonzalez
Subject: Joe Wilson, Jr. (Trinity Rep acting company member)
Artist Statement:
"Painting Joe felt so right! He was my Grandmother's close friend and she had a huge love and bond with Joe. Initially I had planned to paint another person but it didn't feel right. Immediately after finding a photo of Joe, I got incredibly excited and my mind flooded with how I would approach it. Joe has been someone whom many aspiring actors and actresses look up to in the theater industry here in Providence, RI. Also, I felt honored to be the artist who does his first painted portrait. My grandmother is looking down at Joe and I, and telling us how proud she is. I know it."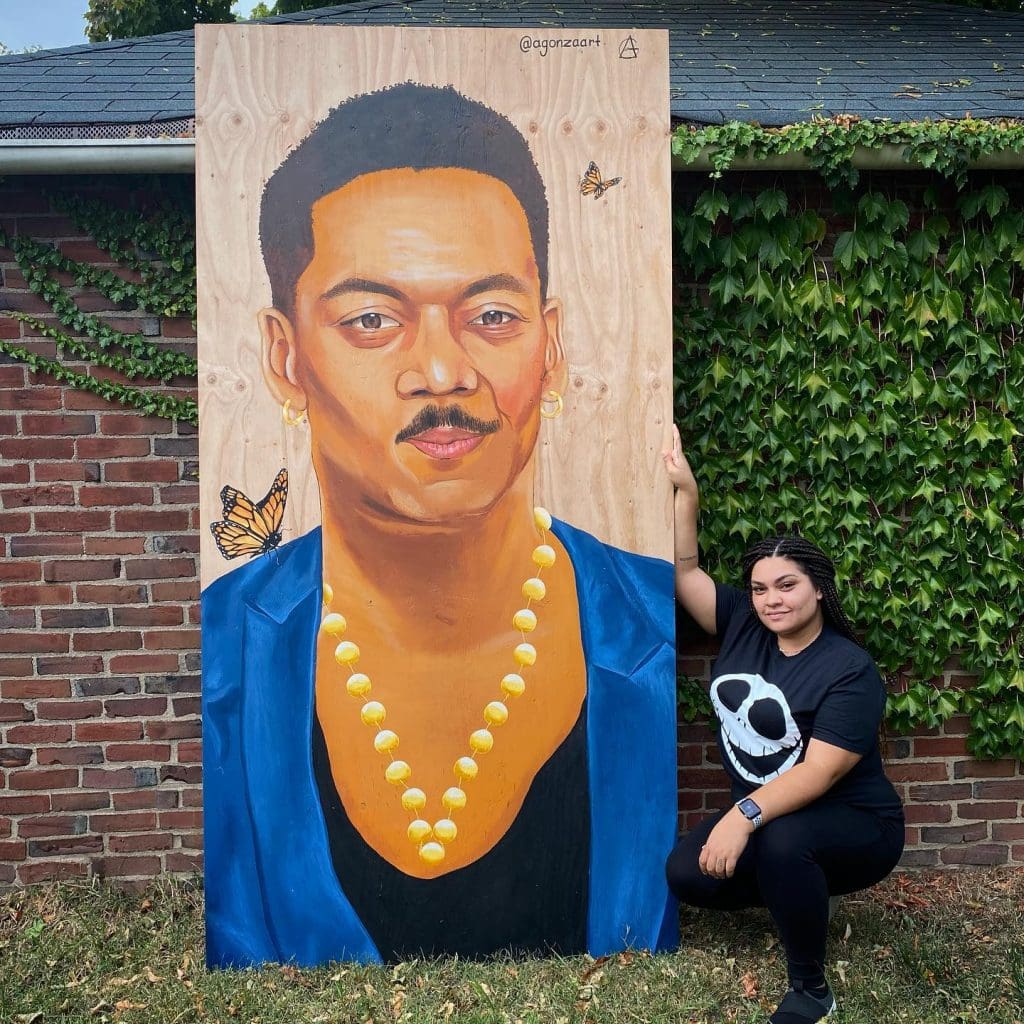 Artist: Kendel Joseph
Subject: Rep. John Lewis
Artist Statement:
Kendel chose as his subject the late civil rights activist John Lewis for his spray-painted portrait. He chose Lewis because "we're still fighting the same today. This is a tribute to that. I'm insanely proud of how this turned out and had an awesome time painting this piece."
Kendel Joseph also painted the Breonna Taylor mural on Fountain St., and George Floyd outside of the AS220 Project space , which also use spray paint as his medium. His other work can be seen on his Instagram page.