TRAIN students performing Days of Our Hospital in 2022. All photos by Marisa Lenardson.
Whether it involves portraying the Big Blue Bug on the Chace Theater stage or performing a skit alongside peers at a psychiatric health program, Trinity Rep's Active Imagination Network (TRAIN) has introduced hundreds of students with cognitive and psychiatric disabilities to the world of theater, improv, and performance. Through partner organizations across Southern New England, TRAIN uses theater to teach students coping and social skills, as well as to develop confidence.
"We began by doing some theater residencies with the Autism Project in Johnson for its participants and working with the inpatient programs at Bradley Hospital," said Jordan Butterfield, director of education and accessibility. "A lot of times, autistic people struggle socially. Theater is a very social art form, so it is a great way to help these students."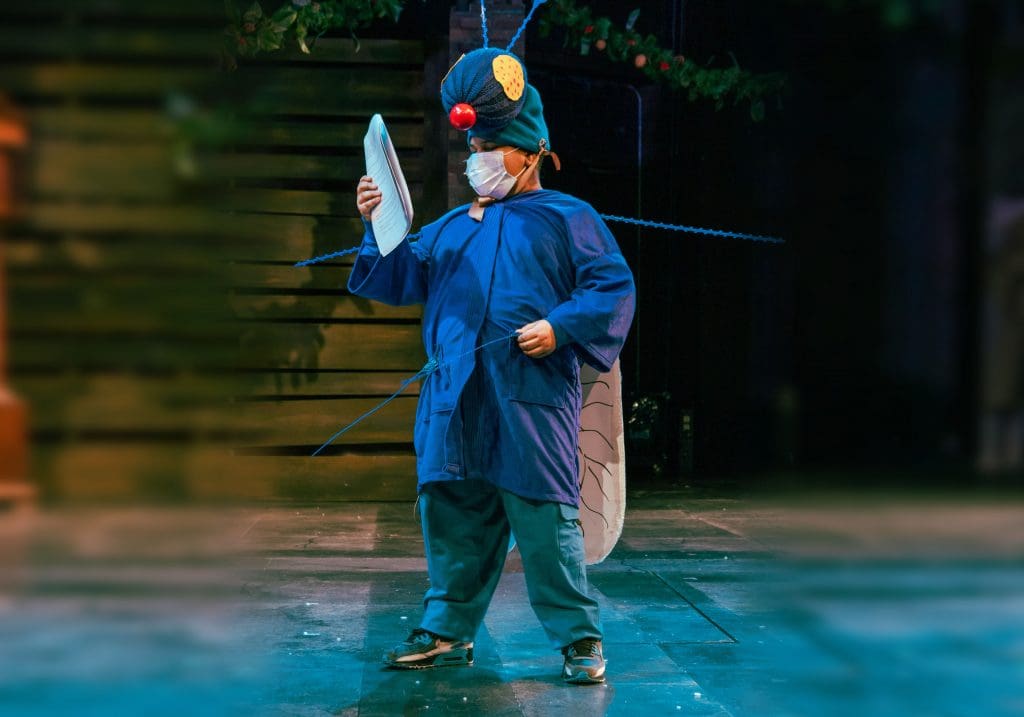 Trinity Rep established TRAIN in 2010 when Jordan (who was then-education programs manager) noticed a lack of programs exclusively for autistic students. She had previous experience working at schools and summer camps for students with social and developmental disabilities Since then, the program has expanded to include students with other disabilities, such as Down syndrome or traumatic brain injuries, as well as adults. Today, TRAIN provides a wide range of services, from private workshops to public performances. Thanks to a grant from CVS Caremark Charitable Trust, Trinity Rep launched an early version of TRAIN through a pilot program.
"We adjust our curriculum depending on if it's a day school program for children versus a social service organization that wants to provide an extracurricular group for their clients of all ages versus a program in a hospital setting with inpatients who may not have signed up for theater on their own," Jordan said. "Regardless, we hope that these opportunities let students unwind and also have some fun."
Inpatient programs at Bradley Hospital or Hasbro Partial Hospital Program often have TRAIN residencies where a Trinity Rep educator visits to teach a lesson regarding performance and theater. While students may not have necessarily signed up for theater courses, they offer the opportunity to learn social and life skills through theatrical techniques such as physical movement and improv.
In contrast, TRAIN residencies with community partners like The Autism Project and Seven Hills Rhode Island are voluntary, so the registered students are probably already interested in theater. Here, students may play theater games, improv, and prepare short scenes before presenting a final play. In recent years, TRAIN and Seven Hills Rhode Island have presented brand-new plays such as Conopoly, where board games come to life; Days of Our Hospital, a parody of medical soap operas; and The Big Blue Bug's Clues, based on the iconic Big Blue Bug here in Providence.
"During Conopoly, I had one new student who was starry-eyed, bouncing around the entire building, running up and down the stairs being so excited to be at and performing in a theater," Jordan said. "He was so exhilarated by the whole process, and it was super infectious watching someone so thrilled to perform on a professional stage for the first time."
TRAIN has become a great way for students with disabilities to make friends and learn more about performance, but it has also evolved into an opportunity for students to express themselves. An example of this was when TRAIN performed an adaptation of Peter Pan, and the student playing Tinkerbell, who was nonverbal, stole the show, according to Jordan.
"When we started, our theater exercises were based on my training with other organizations, which was based in applied behavioral therapy (ABA)," Jordan noted. "ABA is very much about trying to get neurodivergent people to conform to the neurotypical world, to recite social scripts, to make neurotypical people comfortable at the expense of neurodivergent people's health. But upon hearing from neurodivergent people how harmful this is, we've moved toward embracing all kinds of learners. There are a few rules that we keep in place, like not interrupting people and treating people with respect, but other than that, we encourage students to communicate however makes them comfortable. That can include stimming, making noises, being hyperverbal or nonverbal, just being able to express themselves wholeheartedly. That's why now our programs are so big on improv, so students can learn how to respond to change and social situations, but on their own terms. So really, we're hoping to teach that there's no right or wrong way to make theater."
Tracy Allard has been a student, actor, and playwright for various TRAIN programs over the span of 12 years. She said that allowing students to embrace their differences resulted in plenty of
creativity.
"At this point, I like the acting, sure, but the people are what makes it special," Tracy said. "So many of the folks in class will come out with really strong, creative, and unexpected choices that enhance the plays themselves in ways you don't expect."