1/18/2018
Trinity Rep's 40th-anniversary production of A Christmas Carol featured a special addition — as part of ongoing efforts to forge deeper connections with the Rhode Island community, co-directors Angela Brazil and Stephen Thorne invited 18 non-profit, community service organizations to join our company onstage in the production. Representatives of each group performed in three consecutive performances throughout the run of the show.
Community organizations included: The Boys and Girls Club of Pawtucket, The Boys and Girls Club of Woonsocket, Dance for the Aging Population, Dorcas International Institute of RI, Festival Ballet Providence, Girls Rock! Rhode Island, NAMI Rhode Island, The Manton Avenue Project, Partnership for Providence Parks, Progreso Latino, Providence Veteran's Administration, Rhode Island Latino Arts, Seven Hills RI, Sisters Overcoming Abusive Relationships (SOAR), Tenderloin Opera Company, Tomaquag Museum, YouthBuild Preparatory Academy, and Youth Pride RI.   Before the show ran in November and December of 2017 Angela Brazil and Stephen Thorne had this to say:
"This is a story about someone who's chosen to isolate himself from his community, at great cost to that community and to himself. It couldn't be a more timely story; in our current fractured landscape, the importance of community, of looking at and really seeing each other, is critical," said co-director Angela Brazil. "We're thrilled to feature folks from our Rhode Island community who do work we think is invaluable here, work we want our audiences to know about. And the company of A Christmas Carol is so excited to play with these brand-new actors!"
"I am very excited about working with our community groups in our production because a big part of this story is about actually connecting with the world around us, as opposed to being 'solitary as an oyster' as Scrooge is," remarked co-director Stephen Thorne. "Dickens suggests that Christmas is one of the only times of year when we make an attempt to think about the people around us, whether family or strangers — so it seems natural to actually see more folks from our Rhode Island community and to actively include them in this amazing yearly community event that is A Christmas Carol."
Bringing these organizations on stage built on Trinity Rep's longstanding commitment to the Rhode Island community. Since 2006, money has been raised after every performance of A Christmas Carol for the Rhode Island Community Food Bank — helping Rhode Islanders in need and reminding audiences to bring the spirit of Dickens' story into their lives. Over $ 465,295.21 has been raised since 2006 for the Food Bank thanks to the generosity of audience members.
Below is a list of all of the organizations involved in the 2017 A Christmas Carol, as well as accompanying photos for the majority of these groups. We loved giving back to the community and hope the spirit of serving our community can continue all year long.
The Boys & Girls Club of Pawtucket provides life-changing and life-saving programs to youth in our community. These programs help youth realize goals set in the priority areas of Academic Success, Good Character and Citizenship, Healthy Lifestyles, and Confident Self-Expression through the Arts. Year-round Club members participate in a wide range of enrichment activities designed to help them learn, grow, make friends, and have fun. With over 3,000 program participants each year, Great Futures Start HERE! More information is available at www.bgcpawt.org.
The Boys & Girls Club of Woonsocket offers a safe, fun, and educationally engaging place for youth ages 5–18, before and after school, when kids need us the most. Professionally developed programs are offered by caring, trained adult staff in six core areas: Character and Leadership Development, Education, Career Development, Health and Wellness, the Arts, and Sport and Recreation. The mission of the Club is to enable all young people, especially those who need us most, to reach their full potential as productive, caring, responsible citizens. Stop by your local Club to see the amazing things members and staff are doing each day! More information is available at www.bgcwoonsocket.org.
Dance for the Aging Population (DAPpers) is a dance class open to all ages and all abilities. It was created in 2013 as part of a program at Brown University called Artists and Scientists as Partners (ASaP). They invite people from the community with movement challenges to join them in the art and practice of dance regardless of previous dance experience and at a range of mobility levels, seated or standing. In the dance studio, people find joy, vitality, and a deep connection with others. We all become dancers.
Dorcas International Institute of Rhode Island is committed to building on the diversity and strength of the people they serve as an investment in a stronger and more connected community. They welcome all those who are working to overcome cultural, educational, economic, and language barriers; and they empower them to achieve self-sufficiency and to participate actively in our community. They provide client-centered services, advocacy, and opportunities based on their expertise in family literacy and adult education, employment services, refugee resettlement, translation, interpretation, U.S. citizenship, and immigration services. More information is available at www.diiri.org.
Festival Ballet Providence (FBP) is a professional dance company recognized for its high artistic quality, enriching the community with performance and education programs. As the resident ballet company of Rhode Island, FBP is comprised of 25–30 classically trained, professional ballet dancers performing a wide range of classical, neoclassical, and contemporary works in three venues in Providence: PPAC, The Vets, and its own Black Box Theatre. The FBP School educates the next generation of aspiring dancers with the highest quality education, including a successful program for children with Down Syndrome recognized for its therapeutic impact and inspiring success. FBP's educational outreach program reaches more than 5,000 children each season and connects directly with the community with workshops and demonstrations. More information is available at www.festivalballet.com.
Girls Rock! Rhode Island is a volunteer-based non-profit that uses music creation and critical thinking to foster empowerment, collaborative relationships, and the development of healthy identities in girls and women. They offer summer camps and year-round music empowerment programs for girls, women, trans, and gender-nonconforming youth and adults. Their new program space on Westminster Street in Providence provides opportunities for more year-round engagement and new programs, including an afterschool drop-in program and gender discussion group. More information is available at www.girlsrockri.org.
The Manton Avenue Project's mission is to nurture the unique potential of young people in Olneyville by unleashing their creative voices and uniting them with professional artists to create original theater. MAP offers year-round tuition-free playwriting and performance programs aimed at giving young people tools to forge ahead to become tomorrow's creative thinkers and community leaders. More information is available at www.mantonavenueproject.org.
NAMI Rhode Island provides free mental health support groups and classes to individuals and families affected by mental illness. NAMI RI also provides free mental health education to thousands of school children every year. The mission of NAMI RI is to educate the public about mental illness, to offer resources and support to all whose lives are touched by mental illness, to advocate at every level to ensure the rights and dignity of those with mental illness, and to promote research in the science and treatment of mental illness. More information is available at www.namirhodeisland.org.
Partnership for Providence Parks is a 501 (c)(3) non-profit that supports volunteer groups — Park Friends — seeking to transform neighborhood parks into thriving green spaces that reflect the needs and character of their community. They work in 100-plus city parks in all 26 neighborhoods in Providence. They see public lands as platforms for access, equity, and social justice. Their overarching goal is to build community through programs in Play, Health + Wellness, Education and Conservation, Stewardship, and Technical Support and Training. They are honored that Trinity Rep is one of their 50 community partners. They invite you to become a park friend and their PARK-ner, too! More information is available at www.ProvidenceParks.org
Progreso Latino, Inc. is a multi-service, non-profit, community-based organization located in Central Falls. Their mission is to empower Rhode Island's Latino and immigrant communities to achieve greater self-sufficiency and socio-economic progress by providing transformational programs that support personal growth and social change. More information is available at www.progresolatino.org.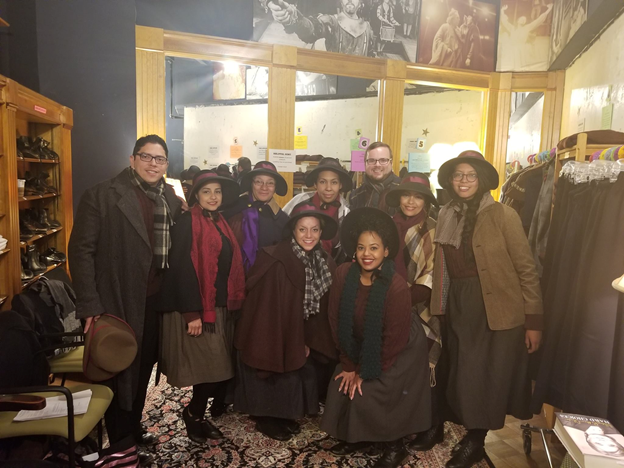 The Providence Veterans Administration's mission is to fulfill President Abraham Lincoln's promise "to care for him who shall have borne the battle, and for his widow and his orphan" by serving and honoring the men and women who are America's veterans. More information is available at www.providence.va.gov.
Rhode Island Latino Arts is the state's leading non-profit organization exclusively dedicated to the promotion, advancement, development, and cultivation of Latino arts, including the art, culture, history, and heritage of Rhode Island Latinos. They are proud to be a partner of this innovative production of A Christmas Carol and to participate in the theater's vision of engaging new audiences more deeply. More information is available at www.rilatinoarts.org.
Seven Hills RI, one of 12 Seven Hills Foundation Affiliates, is a comprehensive social services agency serving more than 1500 children and adults with significant life challenges, living in Rhode Island. The mission of Seven Hills Foundation is to promote and encourage the empowerment of people with significant challenges so that each may pursue their highest possible degree of personal well-being and independence.  Empowering services offered include: Early Intervention, Home Based Children's services, Behavioral Health, Enhanced Outpatient Services, Adult Residential/Day programs and many more. More information is available at www.sevenhills.org.
SOAR (Sisters Overcoming Abusive Relationships) is a grassroots task force of the Rhode Island Coalition Against Domestic Violence. Established in 1989, SOAR is made up of domestic violence survivors, who are dedicated to using their voices and experiences to end domestic violence. The mission of SOAR is to promote, advocate, and work towards the elimination of domestic violence and to embody and give visibility to the voices of abused women. More information is available at www.soarinri.org.
Tenderloin Opera Company is a music and theater group that tells the story of homelessness in Rhode Island through writing, music, and performance. Named after the San Francisco neighborhood in which it was founded, TOC members include currently and formerly homeless Rhode Islanders and their advocates. TOC authors, writes music, and performs one opera a year based on stories of homelessness, abuse, addiction, hope, love, and redemption. They also perform often at soup kitchens, shelters, political rallies, and protest events with the aim of supporting and telling the stories of all marginalized people across Rhode Island and beyond. More information is available at www.facebook.com/TenderloinOperaCompany.
Tomaquag Museum's mission is to educate the public and promote thoughtful dialogue regarding Indigenous history, culture, arts, and Mother Earth, and connect to Native issues of today. Their core values are rooted in their Indigenous beliefs that drive their organization's strategy and decisions and contribute definitively to its success. The very culture of the organization is determined by their traditional values and philosophy. Respect, leadership, inclusiveness, knowledge, and responsibilities are the ideals and inspiration that guide Tomaquag Museum and its employees. As their organization continues to grow and develop, these values guide them into the future. More information is available at www.tomaquagmuseum.org.
YouthBuild Preparatory Academy is designed based on a community that recognizes and supports the diverse needs of urban youth, creates an environment for individual growth, and cultivates social and emotional development resulting in a successful transition from adolescence to adulthood. YouthBuild Preparatory Academy is laser-focused on academic excellence and achievement. They provide a rigorous and relevant, standards-driven experiential learning community to ensure all students master the content and skills necessary to earn a postsecondary degree. More information available at www.youthbuildprov.org.
Youth Pride RI is an affirming space for lesbian, gay, bisexual, trans, queer, and questioning young people to build community, develop connections, and be themselves. Youth come together from a wide range of backgrounds and join with one another over common issues and activities, sometimes as simple as playing video games or sharing a meal. All of their programs are free of charge and include individual counseling, weekly discussion groups, leadership trainings, social events, and wellness activities. In the end, youth experiences at Youth Pride RI can be transformative. More information is available at youthprideri.org.