3/9/2018
Trinity Rep's endowment includes named funds to honor individuals with close ties to the theater. Several of these funds support actor salaries and recognition for artists. Fellowships are selected by Artistic Director Curt Columbus with advice from Brown/Trinity Rep faculty and Associate Artistic Director Tyler Dobrowsky. New gifts to our endowment are gratefully accepted at any time, and help to bring exceptional artists to our community. We are pleased to announce the 2017–18 Fellows.
This year's Robert Clayton Black Memorial Fellow is resident acting company member Mia Ellis. Mia holds a BA in music and vocal performance from Tugaloo College and an MFA from Brown/ Trinity Rep MFA program. She joined Trinity Rep's acting company in 2013, and divides her time between Providence, New York City, and other work locations. This season Mia will portray Sarah in our spring production of Ragtime. Audiences will remember her portrayal of Camae in last season's production of The Mountaintop, as well as memorable characters in To Kill A Mockingbird, Blues for Mister Charlie, The Glass Menagerie, Melancholy Play: a chamber musical, The Grapes of Wrath, Intimate Apparel, Clybourne Park, and A Christmas Carol. Her other regional theater experience includes Bread Loaf, The Gamm, Santa Cruz Shakespeare, Seattle Repertory Company, and the Virginia Stage Company. Mia's film and television work includes appearances on The Good Fight, Elementary, and Person of Interest. She has taught in our Young Actors Summer Institute, and has been instrumental in our new work development process.
Established by the family and friends of former company member Robert Clayton Black, this fellowship supports the salary of a young actor employed in regular season, mainstage productions at Trinity Repertory Company. Bob Black (1947-2014) acted at Trinity Rep in over 30 productions from 1969–83, before working in film, radio, and television in New York and Los Angeles. His media work included featured roles with As The World Turns, Another World, Guiding Light, Loving, General Hospital, and several public television productions. He was also a talented musician and writer.
Established by the late Herb Kaplan in memory of his son, the Peter Kaplan Memorial Fund underwrites the salary of a developing young actor or director, typically a graduate of the Brown/Trinity Rep MFA program, as they work on the Trinity Rep stage. This year's recipient, Tiffany Nichole Greene is a Dallas/NYC-based director and actor, who directed our Fall Rep production of Skeleton Crew and holds an MFA in Acting from Brown/Trinity Rep. According to Peter Kaplan's father, his main interests were poetry, literature and theater. He edited 17 books — including Guggenheim Fellow and Brown University Professor James Schevill's Cathedral of Ice (later adapted for the Trinity Rep stage) — before he died in 1977 at age 19. Because they did most of their communication through the mail, most of the people who worked with Peter as an editor had no idea that they were dealing with someone in his teens. One of his poetry books was hailed as "Poetry Book of the Year."
Tiffany works at Dallas TheaterCenter as regional casting director, and is an alumna of both the Lincoln Center and Soho Rep Directors Labs. She recently assistant directed A Christmas Carol at Dallas Theater Center, and upcoming projects include Romeo and Juliet at Stage West (Ft. Worth), A Raisin in the Sun at Triad Stage (Greensboro, NC), Les Liaisons Dangereuses at Theater Three (Port Jefferson, NY), Peter and the Starcatcher at Redhouse Arts Center (Syracuse, NY) and Revolt. She Said. Revolt Again at Second Thought Theatre (Dallas). Tiffany particularly enjoys developing new work.
The 2017–18 Richard Kavanaugh Memorial Fellow is actor Daniel Duque-Estrada. Established by Richard's friends and family, the memorial fund underwrites the salary of a young actor on Trinity Rep's stages. Richard Kavanaugh (1941-1988), a resident company member of Trinity Rep from 1969–88, is remembered for his devotion to the craft of acting and for the powerful characters he created on the stage in Providence and New York. He was nominated for a 1982 Tony Award for his performance in Trinity Rep's production on Broadway of Harold Pinter's The Hothouse. Daniel Duque-Estrada is a graduate of the Brown/Trinity Rep MFA Acting program and holds a BA from UC Berkeley. At Trinity Rep this season, he will portray Pablo in Native Gardens and appear in Othello. Past Trinity Rep roles include Marley in A Christmas Carol, Alonso/King Ferdinand in Like Sheep To Water, or Fuente Ovejuna, and Lysander  in A Midsummer Night's Dream. Daniel has also been a counselor and teaching artist with Trinity Rep's Young Actors Summer Institute, and has acted for California Shakespeare Theater, The Cutting Ball Theater, Dallas Theater Center, Intersection for the Arts/Campo Santo, Oregon Shakespeare Festival, Shakespeare Dallas, Shakespeare Santa Cruz, and The Shotgun Players. He also works as a voiceover artist.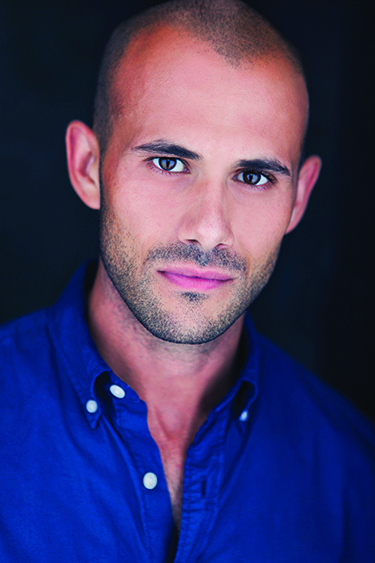 María Gabriela Rosado González has been selected as this season's Margo Skinner Memorial Fellow. Margo (1950-2005) spent eight years at Trinity Rep, with roles in Cat on a Hot Tin Roof, The Night of the Iguana, and Rosmersholm. She played Madame Charlotte Cardoza for the first national tour of Titanic, and performed in the tour of I Never Sang for My Father, as well as in Off-Broadway productions of The Perfect Party, The Dining Room, and Blue Window. She worked at many regional theaters, including Atlanta's Alliance Theatre, the Guthrie, Geffen Playhouse, Cleveland Play House, Cincinnati Playhouse, Actors Theatre of Louisville, Williamstown Theatre Festival, and Pittsburgh Public. Her film credits include Quick Change, Longtime Companion, and Night School. Her final performance was in Manhattan Theatre Club's Moonlight and Magnolias. Established by her family and friends, the Margo Skinner Memorial Fund supports the salary of a young actor employed in regular season, mainstage productions at Trinity Rep.
María Gabriela Rosado González is a member of the Brown/Trinity Rep MFA program class of 2019, and spent the past summer playing Juliet in our bilingual Shakespeare en el Verano touring production of Romeo and Juliet. In this fall's MFA touring productions, she played Captain and First Officer in Twelfth Night and the Princess of Puerto Rico in a contemporary reworking of Love's Labour's Lost. She is now in rehearsal for the role of Tania in our mainstage production of Native Gardens. Maria is a native of Puerto Rico and earned her BS in Chemistry, with a minor in Drama/Acting from the University of Puerto Rico.
For more information on how you can help support our students and early-career company members, contact Individual and Legacy Giving Officer Carol Drewes at (401) 453-9285 or cdrewes@trinityrep.com