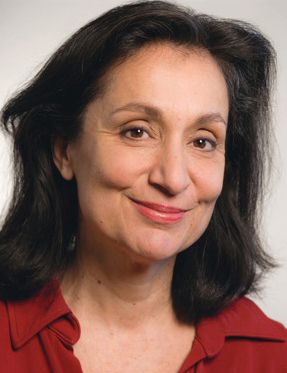 Whether playing a fairy queen in Shakespeare's A Midsummer Night's Dream or the judge who sentenced Buddy Cianci in the hit The Prince of Providence, longtime Trinity Rep company member Phyllis Kay has portrayed all sorts of roles in the Dowling and Chace theaters. But this year marks the first time she'll perform one of the most iconic roles at Trinity Rep: Ebenezer Scrooge in A Christmas Carol.
Phyllis spent her early career in New York City before auditioning for Trinity Rep's 1991 production of Sister Mary Ignatius Explains It All For You, which was her Trinity Rep debut. She joined the resident acting company for the 1991-92 Season and has been a member ever since. In addition to her work at Trinity Rep, Phyllis has performed at regional theaters like Huntington Theater in Boston and Arena Stage in Washington, DC. She's also acted for film and television, including appearances on Law and Order, The Sopranos, and most recently, Kevin Can F**k Himself.
"I feel like acting was something I always knew that I was going to do," Phyllis recalled. "The story that my mother used to like to tell was that when I was in third grade, I produced some kind of Christmas pageant on my own. I wrote the script, I cast it, I did the costumes, everything!"
Some of Phyllis's favorite recent roles at Trinity Rep include Celeste in the world premiere of George Brandt's Into the Breeches!, Fraulein Schneider in Cabaret, and Linda Loman in Death of a Salesman, for which she won the IRNE Award for Best Supporting Actress in 2018.
"Having lived in New York for a number of years and having played that game, I can say with confidence that the people that I encounter and the quality of work that I've been lucky enough to be involved in here is every bit as competitive and inspiring as anything you'll find in New York or Los Angeles," Phyllis said.
Over the course of 30 years, Phyllis has featured in 13 productions of A Christmas Carol at Trinity Rep. She's played a variety of roles, including the Ghosts of Christmas Past and Present, Mrs. Cratchit, Fezziwig, Belle, Dilber, and various ensemble parts. But this year marks her first time as the miserly Ebenezer Scrooge – and the first time a woman played the role at Trinity Rep in nearly 20 years after Trinity Rep's last female in the role. For those keeping count, our most recent lady Scrooge was fellow company member Anne Scurria in 2003. Beloved former company members Cynthia Strickland and Barbara Meek have also performed the part over the years. 
Last season, Phyllis's husband Richard Donelly was the understudy to Timothy Crowe's Scrooge ("I went to every one of his performances!"). She did not consult Richard for advice, nor any other actors who have portrayed Scrooge over the years. Instead, Phyllis hopes to develop her own version of the character. She noted that although Scrooge is traditionally played by a man, the characterization can apply to anyone, regardless of gender.
"I would not stress the gender element, because I think ultimately, it won't matter," Phyllis said. "I think it will be nice for the little girls in the audience to see a woman as Scrooge, but I also don't think this is a part that has to be assigned to a particular gender or background. A Christmas Carol is a universal human story about forgiveness and generosity. Aileen, our director started talking about what it is that happens to people when they close themselves off to the point where you see Scrooge at the beginning of the play. Our job is to kind of show how that may have happened, and whether change is possible. I imagine that everyone can identify with that."
Aileen Wen McGroddy, the director of this year's production, is a recent graduate of the Brown University/Trinity Repertory Company Masters of Fine Arts Program in Directing. Phyllis said having Aileen on board as director was a major factor that encouraged her to take the role.
"I think that's an ideal collaboration for something like this: having a resident company member with lots of experience with this story joining forces with someone who brings fresh eyes to the process," she said. "I feel like the veteran members of this company can perhaps offer the younger folks institutional memory and experience. And the new folks at Trinity Rep can offer a view through a different lens – and hopefully, teach us something!
Phyllis enjoys that each year's production of A Christmas Carol at Trinity Rep is different from the last. Not only are the casts and creative teams varying each season, but depending on a director's vision, the same scene can have a completely different meaning. She describes working on a play as "a skeleton you can flesh out based on your own ideas and experiences."
That said, each year's show shares the themes of generosity, community, and helping those in need – and that is what Phyllis treasures most about the timeless tale.
"There's a line from Dickens that I love where Nephew Fred talks about how we're all fellow travelers to the grave," Phyllis recalls. "Wouldn't it be great if we could think about each other that way? About giving someone a hand up? I think that's one of the lessons for Scrooge: we're all going to the same place and we're all in this life together."