1/13/2020
by Tom Parrish
Dear friends,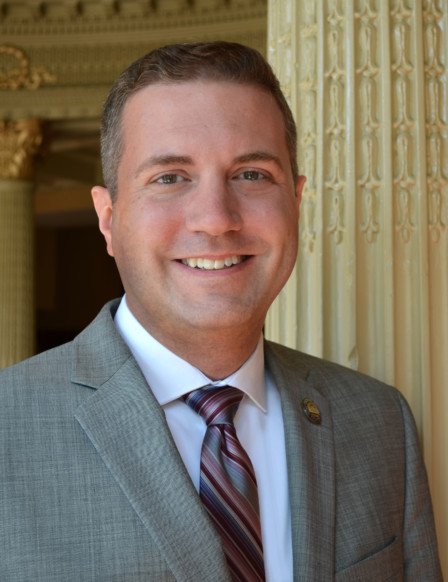 YOUR 2020 AT TRINITY REP begins with the culmination of August Wilson's ten-play "American Century Cycle," which chronicled each decade of African-American life in the twentieth century. Living on the verge of a new millennium, these characters are navigating the struggle between history and progress. Now, as we enter the third decade of that "new" millennium, I wonder what Mr. Wilson might have written to depict life in the 2000s and 2010s. Sadly, we lost this giant of the American theater far too early and will never know.
It has been a blockbuster season at Trinity Rep so far. The Prince of Providence became our highest selling non-holiday show, selling at 100% capacity for its extended run; A Christmas Carol had another banner year, as the second highest grossing Trinity Rep production of all time; and Fade offered an intimate duet about culture, class, and the price of ambition. And we are just getting started with many more memorable nights in the theater still to come — a creative retelling of "the best of times and the worst of times" in A Tale of Two Cities; the award-winning hit Sweat by Lynn Nottage; and the musical masterpiece Sweeney Todd by America's greatest living Broadway composer and lyricist. Subscription packages are still available for the remainder of this season, and we invite you to join us, if you don't already have your tickets.
With these three productions still ahead, Trinity Rep staff and leadership are already deep in planning for your 2020-21 Season, which we plan to announce in mid-March. This time of year is a creative outpouring in regional theaters, as we and our counterparts around the country plant the seeds for the projects of next season. The next few months are a busy period of planning and budgeting, as we work to balance artistic ambition, community impact, and financial resources. Every artistic decision is a financial decision, and every financial decision is an artistic decision. It is a complex puzzle, which forms the foundation for your experience next season. While we can't yet share the titles we are considering, I can tell you that it will be a season not to be missed, continuing our tradition of first-class productions made right here in Providence just for you by your tremendous resident company of artists.
Before March 8, you have the opportunity to take advantage of our low Early Bird subscription prices — the equivalent of two plays free — and guarantee your seats and the best prices for next season. Plus, you will have first access to the best seats for the much-anticipated revival of The Prince of Providence in June 2021. Before spring 2021, only subscribers will be able to secure tickets to see Buddy's return by adding the show to their subscription package. There are subscription options for every lifestyle and budget, with full season packages beginning at less than the cost of a single Broadway ticket.
I hope you and yours had a wonderful holiday season. All of us at Trinity Repertory Company offer you our best wishes for a happy, healthy, and prosperous New Year. Thank you for making Trinity Rep a part of it. We all remain ever grateful for your involvement, support, and patronage.
Enjoy the show,
Tom Parrish