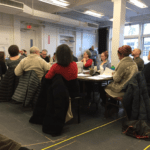 1/2/2018
The room was packed as staff members, guests, subscribers, and our wonderful acting company took their seats to prepare for the first rehearsal of Into the Breeches! The show is a poignant tale of what happens when the men go off to war and just how the women are left to cope. Around the reading table sat the entire cast, as well as playwright George Brant, director Tyler Dobrowsky,  and Curt Columbus, the Arthur P. Solomon and Sally E. Lapides Artistic Director. In the audience were some amazing visitors – including a representative from the Naval War College.
We opened up with some words from Curt and Tyler then segued into a peek at the set design for the show. Spoiler: there are going to be some amazing things done with chandeliers for this production as imagined by set designer Cameron Anderson. After set design, we moved to costume design and it's going to be a total treat. Costume designer Olivera Gajic looked into the best outfits of the 1940s and drew on classic and timeless looks for inspiration. She also spent a great deal of time studying women's breeches and the history of how women started to wear more pants than dresses. It's absolutely fascinating and shows the level of detail each costume will have. One of the show's characters is a costume designer, and it was brilliant to hear what Olivera thought of that character.
Before the reading began George gave us some of his thoughts on the play and then the read through began. Anne Scurria said her first few lines – and the audience was immediately drawn in – especially with laughs. The characters within the show are putting on a play, specifically The Henriad – Henry IV and Henry V. As we meet each character we're introduced to a woman who is doing her best despite the war that is taking its toll. Each character is fighting a personal battle all while doing their best to stay brave for the battles happening on foreign soil.
The whole room was in stitches for most of the first half of the play. The second did not disappoint either, with Phyllis Kay reenacting falling to the ground – without leaving her chair. She certainly knows how to get a crowd laughing. We see some fantastic male characters (Stephen Berenson and Timothy Crowe) come in – all wanting to support the women putting on this play. We heard Megan Leathers ('18) do a spot-on French accent, and Janice Duclos impersonate Groucho Marx as if he was standing in the room with us.  Then Rachael Warren drew a tear from more than one person in the audience. As the rehearsal came to a close – the room was quiet and lingered on every last line. As the play within the play begins, Into the Breeches! comes to its end.
To see our first rehearsals happen live – follow us on Twitter!