8/10/2018
By Betty Ann Hughson and Curt Columbus
Betty Ann Hughson is a longtime Trinity Rep friend, supporter, and volunteer archivist. She has been attending the London Theater Tour for over 30 years.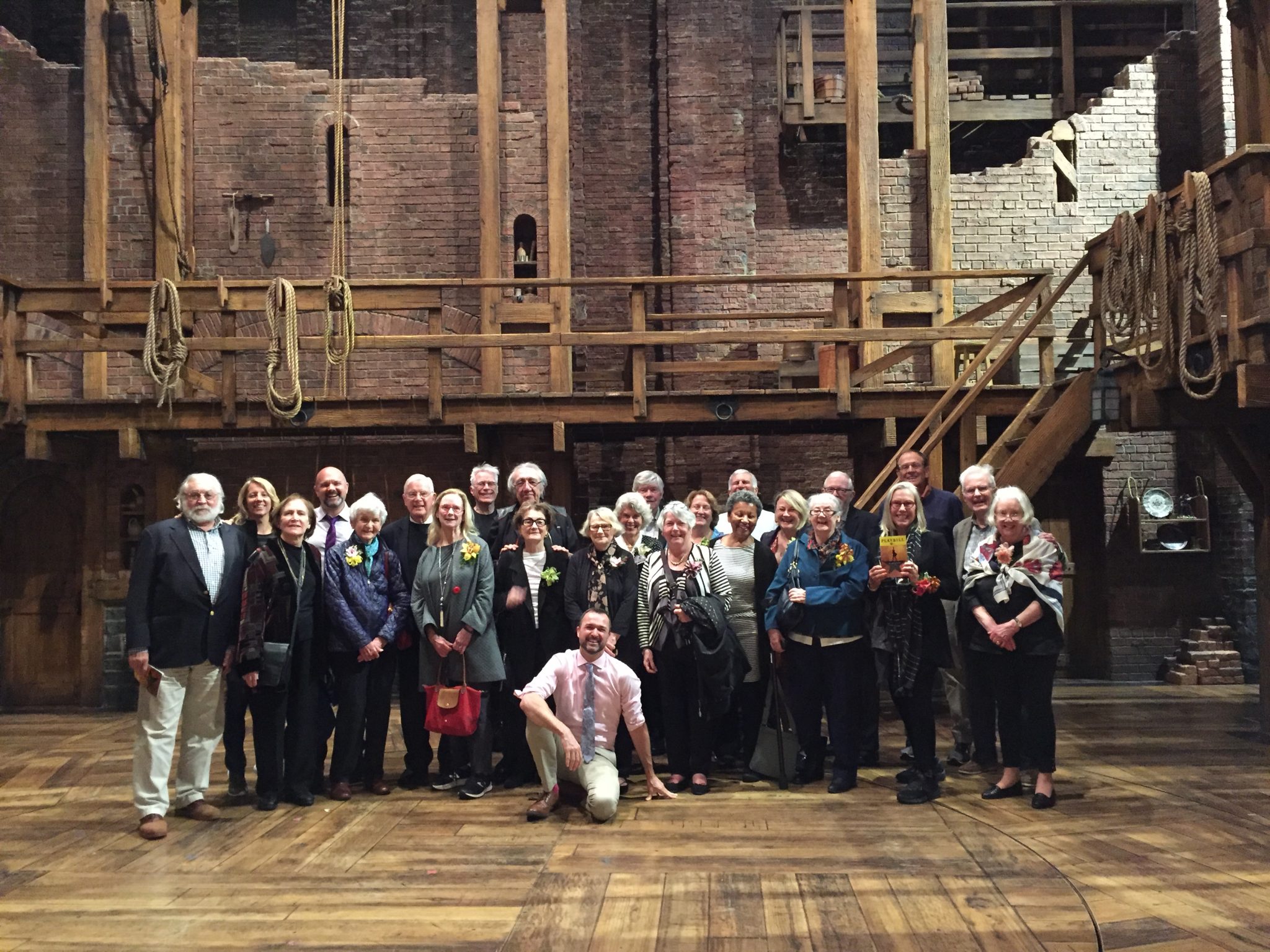 From May 9-14, 2018, 23 theater lovers joined our resident Chicago experts, the Arthur P. Solomon and Sally E. Lapides Artistic Director Curt Columbus and his husband Nate Watson, for an exploration of their former hometown last spring. Trinity Rep's annual domestic theater tour included accommodations (with daily full breakfasts!) at Hotel Palomar in the city's bustling Near North neighborhood and private coaches to all performances. And thanks to generous donors, Trinity Rep's Production Director Laura Smith was along for the entirety of the tour as a special guest, providing not only great company, but invaluable insights on our backstage tours at Writers Theater, The Yard, and the CIBC, as well as during our post-show discussions.
After arriving in Chicago, a chartered coach took us on the scenic route up Lake Shore Drive into the city.  The tour's activities kicked off with an afternoon arrival reception and discussion of Chicago Theater with playwright Lydia Diamond (Smart People), actor Ian Merrill Peakes (Macbeth), and director Hallie Gordon (Smart People), who also serves as Artistic Director for Steppenwolf Theater for Young Adults.
The next day included an optional morning walking tour of public art and architecture in Chicago's Loop, led with zest and great humor by Margaret Hicks of Chicago Elevated.  That evening, before attending Smart People at Writers Theater, we were treated to a tour of their beautiful new facility, designed by award-winning architect Jeanne Gang of Studio Gang, and led by Managing Director Jon Faris.  Following the show, we enjoyed an engrossing discussion with Jon and Artistic Director Michael Halberstam in the theater's luxurious rooftop donor lounge.
Friday morning brought Kate Carson-Groner, leading actor from The Hypocrites, to the Palomar for a pre-show discussion of Aristophanesathon, a four-hour marathon production of the 11 extant comedies of Aristophanes.  This unique experience at the West Division Street Chopin Theater included two breaks for on-site dinner and dessert and bar service throughout. Curt's assessment: "Hilarious, relevant and smart!"
After a Saturday morning breather, we were off to the famed Navy Pier for the Chicago Shakespeare Theater's dynamic production of Macbeth at The Yard, an amazingly flexible space which has been hailed as "the greatest new theater in the world," featuring nine mobile audience towers that can be arranged in a wide variety of ways to accommodate audiences ranging from 150 to 850 people.
Helen Hayes Award-winner Ian Merril Peakes provided a visceral rendition of the 'Thane of Cawdor,' which was complimented but not overshadowed by magical effects by Penn Jillette of Penn and Teller, and we were thrilled when Managing Director for Development and External Affairs E. Brooke Flanagan arranged a special private champagne toast and snack for an intermission treat. Between shows, we enjoyed a group dinner at Beatrix, known for locally sourced family-style dining, before heading to the Goodman Theater for an evening showing of a heartwarming and inspiring production of Having Our Say, based on the Delany sisters' memoir of the same name.
Our final day (and for some, special Mother's Day) brought our long-awaited attendance at Hamilton: An American Musical at the CIBC Theatre.  A post-show backstage tour, led by the company's stage carpenter Mike Norris, gave us added insight into this award-winning, record-breaking production's design and the staff needed to support "the room where it happens." Now part of the Nederlander Organization, this venue opened in 1906 as the Majestic Theatre. The Chicago Majestic was part of the famed Orpheum vaudeville circuit, with headliners including Al Jolson, Eddie Foy, Harry Houdini, Lily Langtry, and Fanny Brice.  Following the Great Depression, the theater was closed from 1932 to 1945, but after acquisition by the Shubert organization, it hosted many pre-Broadway productions, including Neil Simon's The Goodbye Girl, Victor/Victoria, Spamalot, and Kinky Boots. The theater's current name recognizes the Canadian Imperial Bank of Commerce (CIBC), which acquired naming rights in 2017, following the September 2016 arrival of Hamilton's first "sit-down" touring company. (If you're wondering, a "sit-down" company stays in one city, as opposed to those who travel constantly.  In addition to the Broadway and touring companies, Hamilton currently has sit-down companies in Chicago and London.)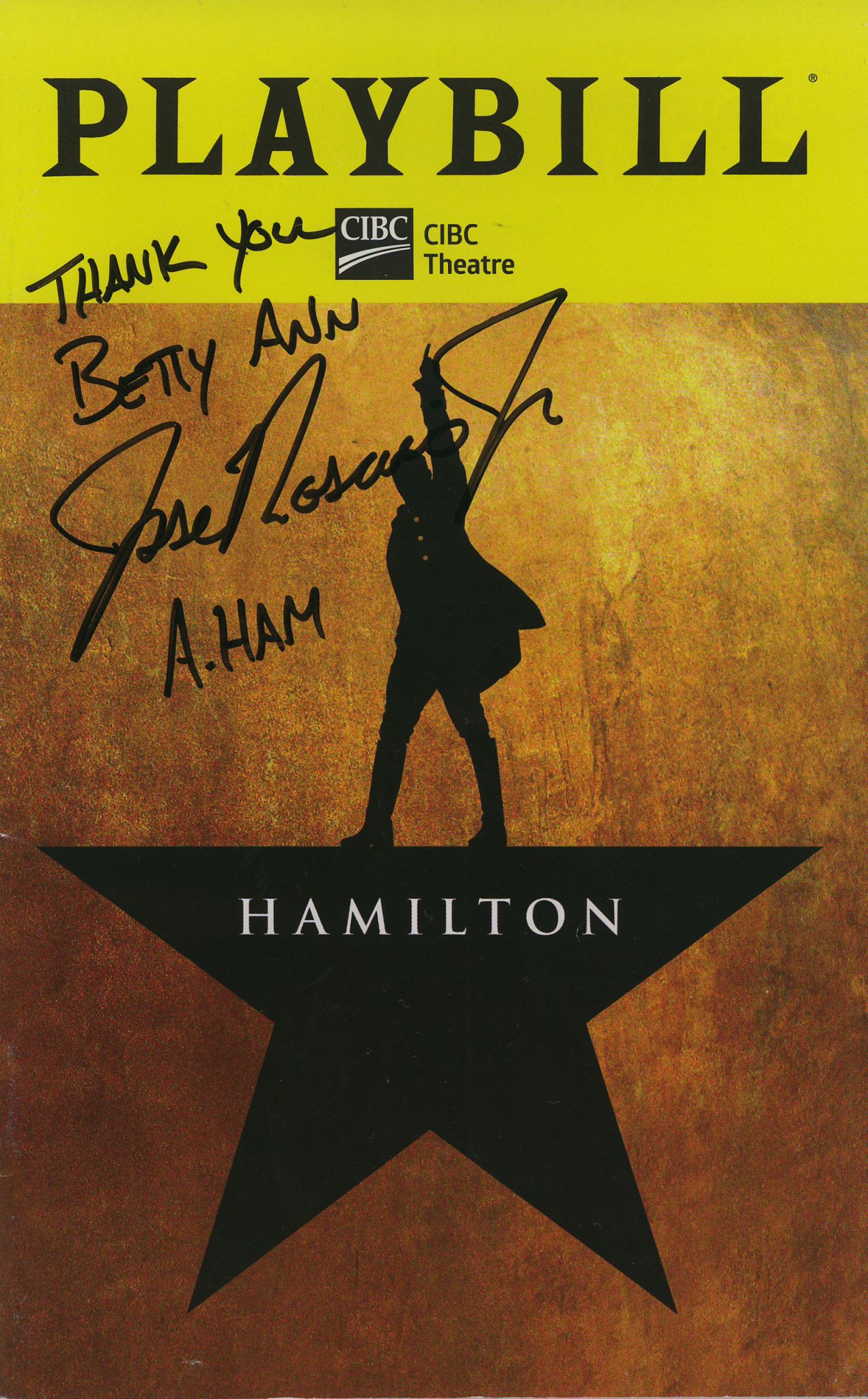 Our fond memories of the final day include exclusive access to an hour-long post-show discussion with special guest Jose Rosario Jr., who portrayed Alexander Hamilton, and Gregory Treco who was our Aaron Burr.  Jose then joined us for a delicious Chicago-style barbeque at Chicago Q, graciously signing playbills and chatting with guests.  Truly an unforgettable finale to a trip that gave us a rare, intimate experience of Chicago and its artists!
What's Next: The London Theater Tour, led by Curt Columbus and Nate Watson, departs September 22-30, 2018. Spots are still available; for details and more information, contact Lauren Ustaszewski at (401) 453-9235 or lustaszewski@trinityrep.com. Worried about missing out? Donors of $2,500 or more annually to Trinity Rep receive first access to the trips, which also provide significant tax-deductible contributions to the theater. Consider making a donation today: pledge and pay on your schedule, and enjoy great travel and great theater.