11/25/19
Dear friends,
WELCOME TO TRINITY REP and our production of Tanya Saracho's Fade. While the cold New England winter blusters outside, we thought it would be nice to take a trip to sunny Los Angeles and the heat of the high-intensity world of television. Ms. Saracho is our incredibly talented guide
in this excursion.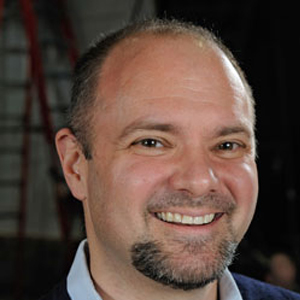 I first encountered Tanya Saracho's work in the early 2000s in Chicago. She was running Chicago's first all-Latina theater collective, Teatro Luna, and making waves throughout the city for creating work by Latinx women that was immensely popular with audiences. I had lived in the West Pilsen neighborhood for years, and my friends and neighbors kept talking to me about this new show at the Arts Center there. It was called Kita y Fernanda by a rising, young, Latina writer. I went to check out what they were talking about… and immediately fell in love with Saracho's work.
Tanya Saracho has a fascinating biography that is often woven into her work. She was born in Mexico, to a very high-powered government official, and has written and spoken about the privilege of this upbringing and its many complexities. Later, after her parents' divorce, she lived with her mother in Texas and led a transnational life, between Mexico and the United States, throughout her teenage years. This perspective informs her characters and her plays, bringing to the stage stories that are not told
usually in mainstream, white European media.
In fact, Saracho founded Teatro Luna, her early-career incubator, specifically because she did not see the stories of Latinas anywhere in American culture at the time. She trained as an actress at Boston University, and after moving to Chicago in 1998 to start acting, she found that the only roles she was being offered were "maids and sex workers." Twenty years later, Saracho is writing those narratives into existence, the ones she wanted to see when she was just starting out.
In 2013, Saracho began working in television as a writer on the popular program Devious Maids. She describes a "culture shock of seeing very few Latinx faces" in the studio, and none in the writers' rooms, and so, "becoming close to the Spanish-speaking janitorial staff as a result." (We will see how that plays out in the production you are about to see, since Fade is based on that very experience.) Saracho has gone on to write for successful programs like Girls, Looking, and How To Get Away With Murder, and in 2018, she became a showrunner of her own television program called Vida. Saracho describes the show as "thematically about the same stuff as when I started writing in 2000: Latinas at the center, a Latina feminist take. It's about finding your authentic self. It's about finding your way home."
Tanya Saracho continues to navigate the boundaries with her work — between television and theater, between Mexico and America, between the divides of class and gender and race. She is a remarkable voice in the new American canon of writers, and I am so delighted to introduce you to her writing. Enjoy Fade and the funny, subtle complexities of this exquisitely observed play. I look forward to talking with you about it, and to seeing you
at the theater.
Curt Columbus
Artistic Director