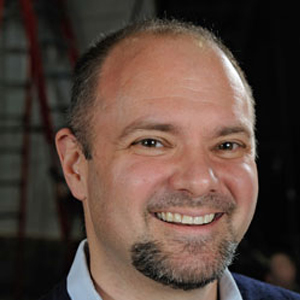 Every week on the Trinity Rep blog we have a quick note, thought, idea, or message from our Arthur P. Solomon and Sally E. Lapides Artistic Director, Curt Columbus. Join us each week for the newest post in "To my friends, from Curt."
Here at Trinity Rep, we present A Christmas Carol every year at this time, and that, in itself, is special.  This year's version is special for another reason, in that we are inviting community groups from around the state to join our actors onstage, in the show.  It is truly inspiring and heart-warming to watch Rhode Islanders, from all walks of life, of all ages, take part in this beloved Rhode Island tradition.  For all of us here at Trinity who tell this story every year, it is a highlight of the show.
The other day, members from the Boys and Girls Club of Woonsocket joined the cast.  This group of girls was so excited before the show, a little bit nervous, wondering what their time on stage would be like.  And when it came their time, they performed beautifully, joyfully.  Our directors, Angela Brazil and Stephen Thorne, got an email from them afterwards, and here's an excerpt:
"Our members had such an amazing time at the production over the weekend, I can't begin to explain what it meant to our group of girls!  We were some of the shyest and quietest girls of the Club;  I say were, because that was then, and never again!"
At Trinity, we know the transformational power of theater, we know its innate ability to change the lives of people who encounter the stories we tell.  The community groups have been a remarkable part of this year's version, and we can see how lives are being changed just by watching the show.  But our production of A Christmas Carol has been doing this in another unexpected and extraordinary way, for over a decade.
Every year since 2006, we have raised money for the Rhode Island Community Food Bank with our holiday classic.  At the end of the show, Scrooge steps forward and asks for pocket change, as a donation for our neighbors in need.  This year's production has raised nearly $25,000 this year to date … and it's not even Christmas yet!
Talk about changing people's lives.  All of this happens around one of the greatest Christmas stories ever.  We are lucky to have this wonderful show at the heart of what we do at Trinity Rep, and I am never prouder to be a Rhode Islander than at a performance of A Christmas Carol.