How Shirley Chisholm paved the way
In The Inferior Sex, Caposhi Rev's cover star is "Shirley Chisholm, candidate and trendsetter." But beyond that, the real-life Chisholm was a trailblazer: the first Black woman elected to Congress, the first Black person and woman to run for president in a major party primary, and active in politics and education throughout her life. Her work continues to inspire women half a century later.
Chisholm was born Shirley Anita St. Hill in Brooklyn, New York, to Guyanese and Bajan parents who had immigrated to the U.S. Chisholm and her two sisters went to live with their grandmother in Barbados for several years. She would later credit her grandmother for teaching her "strength, dignity, and love." She also attributed her passion for social justice to her father, a dedicated supporter of trade unions and Jamaican activist Marcus Garvey. At nine years old, Chisholm and her sisters reunited with their parents in Brooklyn. She graduated cum laude from Brooklyn College with a degree in sociology.
Her dedication to community change led her to a career in early childhood education. Chisholm earned her Master's degree at Columbia University's Teachers Colleges, served as director of several daycares, and was a consultant for the Division of Day Care in the New York Office of Children and Family Services. Although she and her husband, Conrad O. Chisholm, never had children of their own, Chisholm continued to advocate for youth throughout her life.
Chisholm volunteered with local political organizations as a community organizer and activist. Most notably, she campaigned in favor of Brooklyn's first Black judge, and was a member of the League of Women Voters, the Brooklyn Democratic Clubs, and the Unity Democratic Club. However, she often found herself disenfranchised as a Black, female, first-generation American in these groups, particularly those that were predominately white and/or male. Chisholm did not feel that wealthy white politicians made the best decisions for their majority Black, working-class constituents.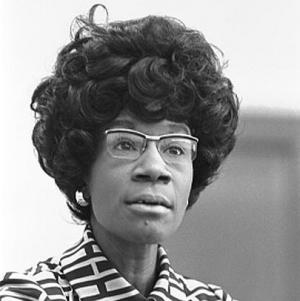 Chisholm once said, "If they don't give you a seat at the table, bring a folding chair." After years of activism in politics and child welfare, Chisholm ran for a seat in the New York General Assembly. While Chisholm faced resistance during the Democratic primary due to her race and gender, she ultimately prevailed, defeating her general election opponents in a landslide.
As an assemblywoman from 1965 through 1968, Chisholm advocated for legislation that would extend unemployment benefits to domestic workers, argued against New York's literacy test only allowing English, and pushed for more Black representation in the Assembly's key committees.
In 1968, Chisholm ran for a seat in the U.S. House of Representatives representing New
York's newly redrawn 12th Congressional District. Running under the campaign slogan "Unbought and unbossed," Chisholm won in an upset against Civil Rights activist James Farmer, becoming the first Black woman to ever serve in Congress. In Congress, Chisholm worked to expand the country's food assistance program, spearheaded the creation of federal support for women and children, sponsored a bill to fund childcare services (that was ultimately vetoed by President Richard Nixon), and served on the Veterans' Affairs and Education and Labor Committees. Chisholm was also a founding member of the Congressional Black Caucus and the National Women's Political Caucus. She made it a point to hire mostly women on her staff; about half of them were also Black.
Chisholm had only served in the House for three years before launching her 1972 presidential campaign. With this, she became the first woman and first African-American to run for a major party's nomination, although she famously noted, "I am not the candidate of Black America, although I am Black and proud. I am not the candidate of the women's movement of this country, although I am a woman and equally proud of that. I am the candidate of the people, and my presence before you symbolizes a new era in American political history."
Chisholm struggled to have her campaign taken seriously by the political establishment.
Due to prejudice toward Black women commonly described today as "misogynoir," many white men, white women, and men of color refused to support her, not believing she could drum up enough mainstream support due to her sex or race (or both). Chisholm's campaign also contended with difficulties in fundraising, balancing her congressional duties, and a lack of press interest. The media covered Chisholm as a symbol instead of a candidate, much to her chagrin, and she had to sue in order to participate in even one television debate.
While Chisholm only garnered 152 of the delegates' votes (or about 10% total), her campaign was still a milestone. Chisholm earned far more votes from delegates than analysts had expected, even if it wasn't enough to defeat George McGovern, who would lose to Richard Nixon in the general election. Chisholm became the first candidate to ever be endorsed by the National Organization for Women. And she'd continue her work in public service, remaining in Congress until her 1983 retirement.
Chisholm spent her later years teaching, co-founding the National Political Congress of Black Women, and advocating for progressive causes and campaigns. In 1993, President Bill Clinton nominated Chisholm to be the U.S. Ambassador to Jamaica, but she declined, citing her declining health. Chisholm passed away in 2005 after suffering a series of strokes.
Today, U.S. Representative Ayanna Pressley of Massachusetts works out of Chisholm's former D.C. office, having cited her as a lifelong "she-ro." Shirley Chisholm received the Presidential Medal of Freedom posthumously from Barack Obama, America's first Black president. And Kamala Harris, the first woman, African-American, and Asian-American to serve as vice president of the United States, tweeted days before being sworn into office that Chisholm "created a path for me and for so many others."
As noted by the characters in The Inferior Sex, Chisholm had a refined sense of style. On
the campaign trail, she sported her signature cat-eye glasses, brightly colored suits, and an iconic bouffant. As such, today's politicians take inspiration from this: On her inauguration day, Harris wore a dress and coat that were the same violet hue as Chisholm's candidacy announcement dress. And Representative Barbara Lee of California wore Chisholm's own pearl necklace. She wrote; "Because of Shirley Chisholm, I am. Because of Shirley Chisholm, Vice President Harris is."