The Fall Rep: The American Dream, Then and Now
The 2017-18 Season began with the powerful pairing of two plays, Death of a Salesman and Skeleton Crew performed in repertory that harmonize through history. Both plays – one by an American theater icon, and the other by an important contemporary theatrical voice – bring distinct, yet complementary, perspectives to the role of the American worker and the quest for the American Dream.

By Arthur Miller
Directed by Brian McEleney
With Stephen Berenson as Willy Loman
September 28 – November 26, 2017
An American masterpiece
This classic tale of the perilously high cost of the American Dream explodes with poignancy and relevance. Willy Loman desperately craves success for himself and his sons, but stark reality cannot live up to his dreams. The wall of delusions he has constructed quietly crumbles around him while a devastated and demoralized man searches in vain for a hidden path to greatness. Death of a Salesman is a Pulitzer-Prize winning masterpiece that everyone should see performed live.
"By common consent, this is one of the finest dramas in the whole range of the American theater." – The New York Times
By Dominique Morisseau
Directed by Tiffany Nichole Greene
October 1 – November 22, 2017
The contemporary American Dream
In Detroit, as the Great Recession begins, a makeshift family of four factory workers toil as their industry flirts with failure. With their future uncertain, Faye, Shanita, Dez, and foreman Reggie must decide how they will balance their own desires, their loyalty to one another, and their survival. More than a half century after Willy Loman struggled for success, this fresh, off-Broadway play shows us that the quest for the American Dream endures.
"Morrisseau has heart…Her rough-edged dialogue even has a touch of the street poet." – Variety
By George Brant
Directed by Tyler Dobrowsky
With Phyllis Kay as Celeste Fielding and Anne Scurria as Maggie Dalton
January 25 – February 25, 2018
Delightful celebration of art & community
Providence, 1942: Oberon Play House's director and leading men are off at war. Determined to press on, the director's wife sets out to produce an all-female version of Shakespeare's Henry V, assembling an increasingly unexpected team united in desire, if not actual theater experience. Together they deliver a delightful celebration of collaboration and persistence when the show must go on! A surprisingly modern and moving comedy about the singular way art and community reveal our boldest selves even in the darkest times.
"Playwright George Brant has forged a tidy little reputation for comedy." – Chicago Reader
By William Shakespeare
Directed by Whitney White
With Jude Sandy as Othello and Rebecca Gibel as Desdemona
February 15 – March 18, 2018
Profoundly moving Shakespearean tragedy
Friendship and betrayal, love and jealousy. Once Othello's most trusted confidante, Iago's envy-fueled passions unleash a betrayal with catastrophic results for Othello and his beloved bride Desdemona. Shakespeare's profound tragedy is an enduring story of race, love, envy, and repentance. This stripped down retelling is the portrait of an unraveling mind amid a society engulfing and destroying its very best.
"No matter what spin you put on it, Othello remains a brilliant and painfully relevant piece of poetry." – Director Whitney White
By Karen Zacarías
Directed by Christie Vela
With Timothy Crowe as Frank and Daniel Duque-Estrada as Pablo
April 5 – May 6, 2018
Sparkling comedy of good intentions & bad manners
Pablo and Tania are new to the neighborhood. Virginia and Frank have been fixtures in the area for decades. They all agree that the chain link fence separating their yards has got to go! A quick replacement with a stately wooden fence will arrive just in time to impress both Pablo's bosses and the judges viewing Frank's elaborate English garden. Everyone starts off on the right foot, but when the truth about that old fence is revealed and Tania's vision of native plants and wild flowers doesn't align with Frank's pesticide-dependent masterpiece, a sparkling comedy of good intentions and bad manners blooms.
"…bright and witty and clever." – Cincinnati Enquirer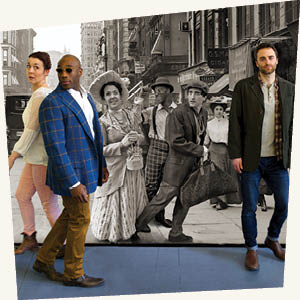 Book by Terrence McNally
Music by Stephen Flaherty
Lyrics by Lynn Ahrens
Based on the novel Ragtime by E. L. Doctorow
Directed by Curt Columbus
With Rachael Warren as Mother and Mia Ellis as Sarah
April 26 – May 27, 2018
Tony Award-winning musical
Based on the celebrated novel, the Tony Award-winning Ragtime reflects America at the turn of the 20th century – where optimism and possibility are as prevalent as burgeoning racial and social volatility. The lives of an upper-class white mother, a Jewish immigrant, and a bold African American musician from Harlem intersect in ways that profoundly affect their families' fates. A passionate, vibrant, Tony Award-winning score heightens the tenderness and tension that infuses these characters' lives.
"One of the best musicals in recent decades." – Hollywood Reporter
In addition to the plays of our 2017-18 Season, don't miss:
by Charles Dickens
Directed by Angela Brazil and Stephen Thorne
November 9 – December 31, 2017
40th Anniversary Production!
Rhode Island's family tradition brings Ebenezer Scrooge, Jacob Marley, Tiny Tim, and the Ghosts of Christmas Past, Present, and Future to the stage in a glorious retelling of the classic story that has delighted and inspired millions.