We've shot a new commercial for A Christmas Carol with Cardi's Furniture this year, starring Nick, Ron, and Pete Cardi as the ghosts of Past, Present and Future from the play, which we can't wait to share. Shooting the commercial gave us an opportunity to get creative with some costuming, and it's the ghost of Christmas "Present" that we think really shows off the creativity of our costuming and props departments!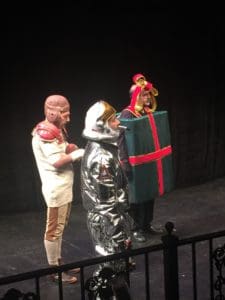 Our Arthur P. Solomon and Sally E. Lapides Artistic Director Curt Columbus at the shoot, and our three ghosts–Christmas Past, Present, and Future.
Get it? "Present"? Please, hold your applause
If you saw A Midsummer Night's Dream last season, this costume might be familiar. It was originally the costume for "Wall", from the play-within-the-play! The props department originally created the costume based off Costume Designer Olivera Gajic's designs, but Costume Shop Director Amanda Downing Carney cleverly re-purposed the costume for our shoot.
Kym Gomes as Tom Snout playing the Wall in A Midsummer Night's Dream last season
Here's how Amanda turned our Wall into a Present:
Green satin fabric was cut to fit over the Wall costume, and pinned into place. Around the arm holes, a bit of sewing was done to keep pins from appearing, and also to keep the wearer (Pete Cardi) from getting pricked!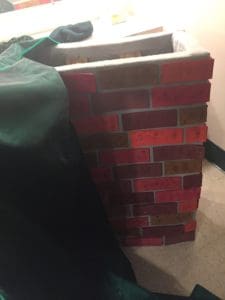 With the fabric on, the brick is now wrapping paper! Amanda is ready to make the gift box costume more festive.
Amanda layered red ribbon over thicker gold ribbon for a standout, festive effect. Adding the ribbon was her favorite and least favorite part, as it was perfect for the costume, but "it wanted to a curl with a mind of its own"!

The ribbon is placed and pinned all around the costume in a cross shape to "wrap" the present. The ribbon is ultimately sewn on so that it can be removed later, if necessary–as Amanda said, "Stitches can be removed, but glue is permanent!"

The costume stays on via shoulder straps. Amanda added the ribbon to the shoulder straps to continue the present look, and make it that much more fun!

Amanda only had about two hours (!!!) to make the whole costume. She made the box in that time, but ultimately had to make the big bow headpiece at home. Here, Amanda models the bow for us!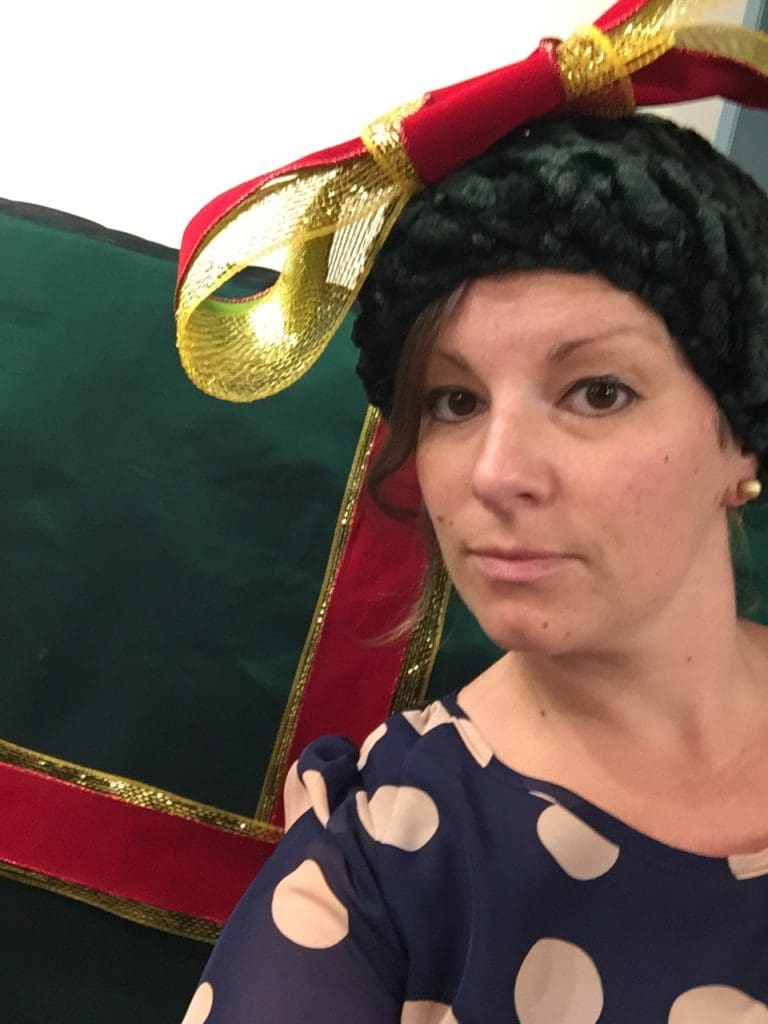 And here's the completed costume, as worn by the Pete! As you can see, he wore black beneath to emphasize the costume, in which he is Christmas "present." Our lovely old-fashioned football player is Christmas "past," and of course our astronaut is Christmas "future"!

Nick as Christmas Past, Curt Columbus, Ron as Christmas Future, and Pete as Christmas Present

Making this costume was a unique challenge. Says Amanda: "I get to be creative every day, but this was a special bit of fun. I hope my family and I get to see it on TV and I can show my boys one of Mama's projects."
A big shout out to Amanda Downing Carney and the costume shop–their creativity and ingenuity is just astonishing to behold.
We hope you enjoyed this glimpse into some of our behind-the-scenes activities. We have an amazing season ahead, come see the costume shop's amazing work all of them (such as A Christmas Carol, now in its 40th year of being performed with the company)!
See you at the theater!