2/7/2020
By Audrey Rowland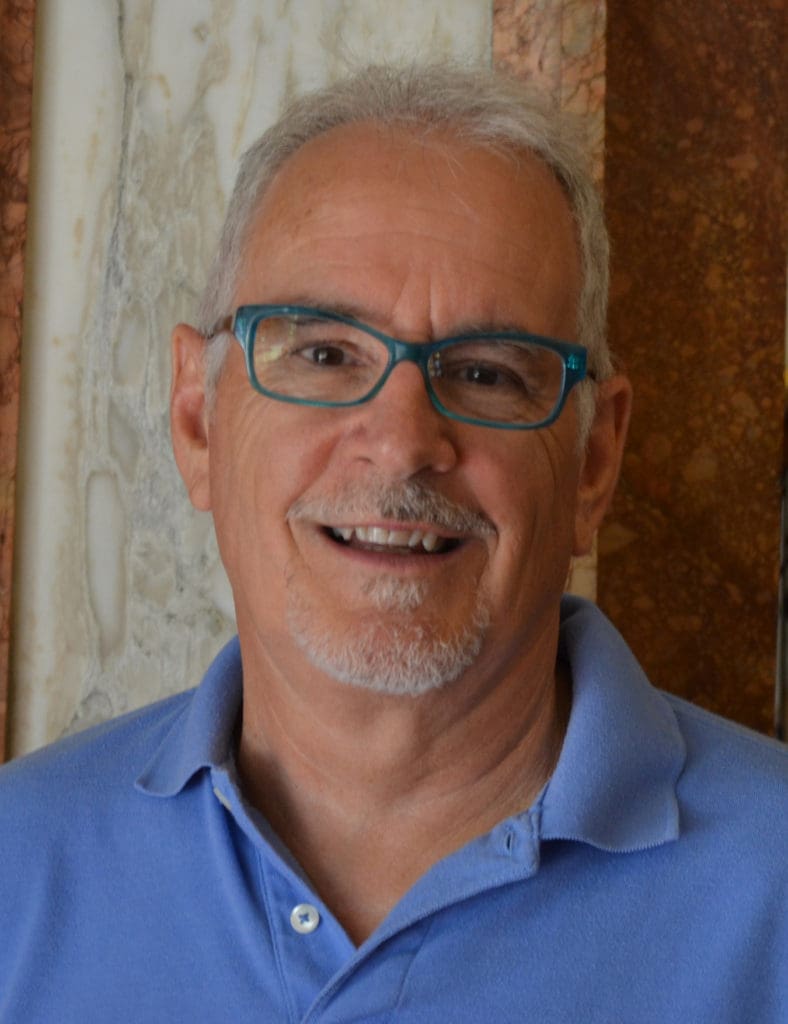 It takes a lot of off-stage work to bring a production to the Trinity Rep stage. Without the hard work and dedication of our staff members, Trinity Rep would not be the Tony Award-winning theater it is today. With that in mind, we'll be sitting down with one of our talented team members regularly so that our audiences can learn more about who they are and how they contribute to the theater's work. 
Michael Guy is the creative director at Trinity Rep. He attended Rhode Island School of Design, where he majored in Painting. After starting as a receptionist at Trinity Rep in 1975, he worked as a scenic change artistic and props artisan before moving into graphic design in 1980.
AR: What does it mean to be the creative director at Trinity Rep?
MG: As the creative director, I'm responsible for all of the graphic design, the printed materials, and maintenance of the visual branding. I also create assets for social media. Another part of my job is overseeing the graphic design intern, who assists in everything I do and who does the marketing materials for Brown/Trinity Rep and for some of Trinity Rep's educational programs.
AR: How would you describe yourself as an artist?
MG: I do realistic art, for the most part. I like figures, I like people. It's interesting that I became the graphic designer at Trinity Rep, because all by accident, I'm doing exactly what I did in high school when I was on the publicity committee of drama club. Outside of work, I do my own painting, usually of men at the beach. I paint either in oil or egg tempera, which is a water clean-up paint that has an egg yolk base to it.
AR: Out of all the artwork you've created for Trinity Rep, do you have any personal favorites?
MG: There's a poster for School for Wives (1990-91) and one for Rebecca (summer, 1990) that I'm very proud of. Nowadays, because of computers, you know what your art is going to look like exactly when it's printed. In the early days, I couldn't count on it coming out the way I wanted it to. So even though those posters aren't perfect, they represent a lot of thought and a lot of figuring out.
AR: Speaking of art designed specifically for the theater, talk to me about the mural you designed for the lobby.
MG: In 1983, Adrian Hall, the artistic director (1964-1989), wanted a mural for the upstairs lobby and asked me to do something. I thought about it for a long time and composed it in my mind. I wanted it to be pictures of things you could find on a Trinity Rep stage. Music scores, old sinks, raw wood, sloppy paint, actors, fabric, vegetables. There was an American eagle carrying carrots. There was a television.
AR: You've been on the administrative staff at Trinity Rep for 45 years, which is longer than anyone else. You're As one of the key keepers of institutional knowledge at this theater, what does that responsibility mean to you?
MG: It's really important to me because if I didn't do it, I don't know that it would happen. If I won the lottery, the money I would give to Trinity Rep would be earmarked for an archivist, to have a professional person either come in for a certain amount of time or to do a certain prescribed job. I use it [the archives] almost every week: to get pictures, to answer questions.
AR: What's a piece of trivia about Trinity Rep most people wouldn't know?
MG: There are two seventh seasons. One time, I was going through old subscription brochures and I noticed that there were two different subscription brochures for season seven and they were for different years. Adjacent years, consecutive years, but different. I think that, at season seven, they decided not to count that first batch of plays before Adrian Hall was the artistic director, and instead to start with his first season.
AR: If you could give a TED Talk about any topic, what would you talk about?
MG: It would be about applying Scrooge to the decisions you make in life. A little bit like 'What Would Jesus Do', but mine is, is this decision you're making one that Scrooge would make in Part One or Part Five? You have these five levels of good, humanistic, socially responsible decisions you could make. I think that Parts One through Five is a way you could organize decision making in your life. You can't always live by it, but I try.
AR: Do you have any secret or hidden talents?
MG: I was once a bad tap dancer. When I was at RISD, a friend of mine would organize these big shows at school twice a year. I was Uncle Sam with forty Statues of Liberty tap-dancing around me one year. I made giant foam rubber costumes of Martians and food and undersea creatures that we would dance in. We had a lot of fun.
AR: If you could go back in time and give one piece of advice to yourself as you were just starting out, what would you say?
MG: I had a tendency to make snap judgments as to whether or not something could be done. People don't want to hear that. Bosses don't want to hear, "I can't do that." I learned that if you instead look at challenges as puzzles to be solved rather than problems that you can't solve, then you'll have a better attitude towards work and getting things done.