Trinity Rep's 2019 Pell Awards Gala
Celebrating the impact and importance of the arts in our lives.
Thanks for a great event! 

Enjoy photos from the 2019 Pell Awards Gala here and here. 
---
Monday, June 3, 2019
VIP Reception: 6:00pm | Dinner: 7:15 pm | Ceremony: 8:15 pm
WaterFire Arts Center, 475 Valley St., Providence, Rhode Island
Co-chaired by Sally Lapides & Art Solomon and Alison & Larry Eichler
Catered by Russell Morin Fine Catering (event menu here)
creative black tie – view a PDF of the event invitation here
Honorees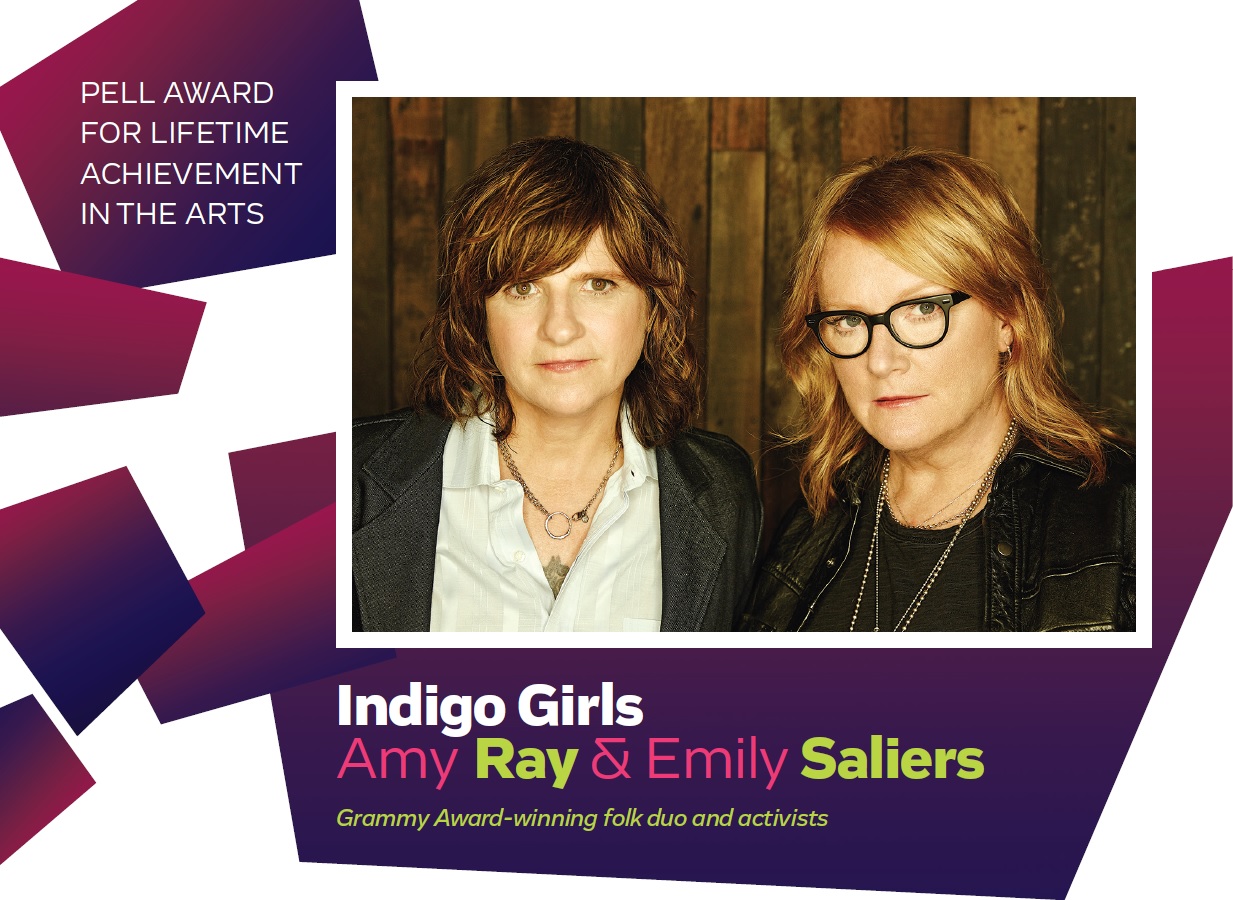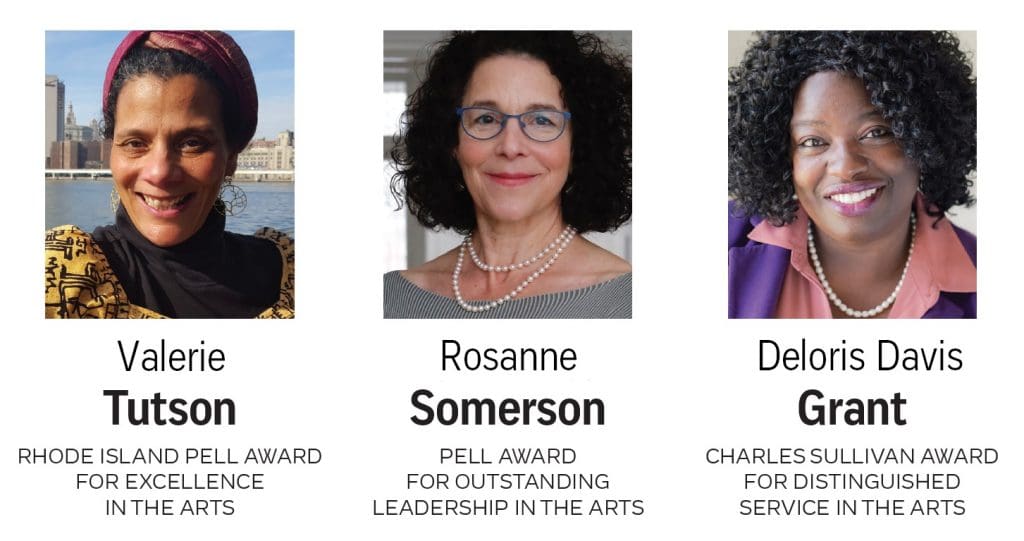 The 2019 Pell Award honorees are…
Indigo Girls, Amy Ray & Emily Saliers, Grammy Award-winning folk rock duo, Pell Award for Lifetime Achievement in the Arts
Valerie Tutson, executive director of Rhode Island Black Storytellers, Rhode Island Pell Award for Excellence in the Arts
Rosanne Somerson, president of Rhode Island School of Design, Pell Award for Outstanding Leadership in the Arts
Deloris Davis Grant, educator at Central Falls High School, Charles Sullivan Award for Distinguished Service in the Arts
Learn more about the 2019 local honorees here.
Read more about the Lifetime Award recipients, the Indigo Girls, here.
Event Committee
co-chairs: Alison & Larry Eichler and Sally Lapides & Art Solomon
honorary co-chairs: Clay Pell, Nick & Annie Pell, Tripler Pell & Tawfik Hammoud, Christina Neal Pell, and Eames Yates, Jr. 
committee: Charlene Carpenzano; Buff Chace; Johnnie Chace; Liz Chace; John Chan; Joseph Chazan & Vicki Veh; Ann Marie Clarkson; Joan Countryman; Jim DeRentis & Brett Smiley; Martha Douglas-Osmundson; Joe & Sally Dowling; Jon & Julie Duffy; Rebecca Gibel; Phil Gould & Athena Poppas; John & Yvette Harpootian; Laura Harris; Janet Hasson; Mayer & Judy Levitt; Joe Madden; Suzanne & Ira Magaziner; Ronald C. Markoff & Karen Triedman; Heidi Keller Moon; Paul & Jean Moran; Timothy Philbrick; Myrna & Hershey Rosen; Barbara & Larry Schoenfeld; Gretchen Dow Simpson & James Baird; Alec Stais & Elissa Burke; Judith Lynn Stillman; Mindy & Stanley Wachtenheim; and Toots Zynsky
honorary committee: Kate Burton; Len Cabral; Jeannine Chartier; Congressman David Cicilline; Curt Columbus & Nate Watson; Michael Corrente; Ruth Dealy; P. William Hutchinson & Jeri McElroy; Richard & Sharon Jenkins; Congressman James Langevin; Brooke & Eugene Lee; Mary McDonnell; Tom Parrish; Bernadet V. & Ricardo Pitts-Wiley; Senator Jack Reed; Rose Weaver; George Wein; and Senator Sheldon Whitehouse
Event Sponsors
as of 6/3/19
Producers: Brown University; IGT; Jonathan & Maya Nelson; Stenhouse Consulting
VIP Reception Sponsor: The Providence Real Estate Guy
Directors: Adler Pollock & Sheehan; Alison & Larry Eichler; Gilbane; Hayes & Sherry; Hinckley Allen; Sara Shea McConnell; The Murray Family Charitable Foundation; Navigant Credit Union; Sayles Livingston Design; Residential Properties LTD; Barbara & Larry Schoenfeld; Textron
Supporters: Buff Chace; Liz Chace; Citizens Bank; CVS Health; John & Yvette Harpootian; Suzanne & Ira C. Magaziner; Grandchildren of Claiborne & Nuala Pell; Starkweather & Shepley
About the Pell Awards
Trinity Rep established the Pell Awards in 1997 to honor artists whose artistic careers exemplify the values of Senator Claiborne Pell, one of the principal founders of the National Endowment for the Arts. The Pell Awards honor Senator Claiborne Pell and recognize artistic excellence in Rhode Island, the New England region and nationally. Throughout his life, Senator Pell worked to support the arts and provide new opportunities for artists. He sponsored the landmark legislation that established the National Endowments for the Arts and Humanities in 1965 and chaired the Senate Education and Arts subcommittee. The Pell Awards' criteria include excellence in the artist's chosen field, work that significantly advances the art form and contribution to the betterment of the community and the world at large through artistic presence and community service.
All proceeds from the Pell Awards Gala benefit artistic programming at Trinity Rep.
For more information, contact Jen Canole, director of development, at (401) 453-9234 or jcanole@trinityrep.com
---
Past Honorees
Pell Award for Lifetime Achievement in the Arts
Jane Alexander
Kate Burton
Ruby Dee & Ossie Davis
Viola Davis
Olympia Dukakis
Oskar & Laurie Eustis
Adrian Hall
Richard & Sharon Jenkins
Jessica Lange
Mary McDonnell
Arthur Miller
Liza Minnelli
Toni Morrison
Robert Redford
Chita Rivera
Jason Robards
Maurice Sendak
Beverly Sills
Stephen Sondheim
Pell Award for Distinguished Achievement in the Arts
John Krasinski
Debra Messing
Amy Morton
Trinity Rep Resident Acting Company
New England Pell Award for Excellence in the Arts
Brian Dennehy
Julie Harris
Jeffrey Osborne
Lloyd Richards
Gunther Schuller
John Updike
Pell Award/Charles Sullivan Award for Distinguished Service in/to the Arts
​Elizabeth Z. Chace
Mayor Vincent A. Cianci, Jr.
Martha Douglas-Osmundson
Joe & Sally Dowling
Adrian Hall
Mary Paula Hunter
P. William Hutchinson
Virginia Lynch
Lowry Marshall
Jane S. Nelson
Elaine Foster Perry
Julie Strandberg
Pell Award for Outstanding Leadership in Arts Education
Ruth J. Simmons
Pell Award for Outstanding Leadership in the Arts
​Jeannine Chartier
Joseph A. Chazan M.D.
Mihailo "Misha" Djuric
Michael Gennaro
Roger Mandle
Senator Claiborne Pell
Rhode Island State Council on the Arts
J.L. "Lynn" Singleton​
George Wein​
Rhode Island Pell Award for Excellence in the Arts
​John Benson
Howard BenTré
Dan Butterworth
Len Cabral
Charlene Carpenzano
John Chan
Bob Colonna
Robert Coover
Umberto "Bert" Crenca
Richard Cumming
Ruth Frisch Dealy
Tony Estrella
Richard Fleischner
Peter Geisser
Malcolm Grear
Michael Harper
Bunny Harvey
Dorothy Jungels & the Everett Dance Theatre
George Kent
Eugene Lee
David Macaulay
Salvatore Mancini
Dave McKenna
Barbara Meek
Denny Moers
Morris Nathanson
Timothy Philbrick
Ricardo Pitts-Wiley
Duke Robillard
Thomas Sgouros, Sr.
Consuelo Sherba
Gretchen Dow Simpson
Maria Spacagna
Judith Lynn Stillman
Chris Van Allsburg
Paula Vogel
Keith and Rosmarie Waldrop
William Warner
Rose Weaver
Steven Weinberg
Toots Zynsky