5/7/19
By Maxwell Snyder

In 2001, Trinity Rep partnered with Brown University to create Masters of Fine Arts programs in acting and directing. Throughout the years, our students have continued to impress us with their hard work and dedication to their craft. Since graduating, our alumni have been taking the professional world by storm! Here are just a few of the many accomplishments they have achieved within the past few years.
Andy Grotelueschen '05 has been nominated for a Tony for his role as Jeff Slater in the new Broadway musical Tootsie after originating the role at the Cadillac Palace Theatre in Chicago. He is also a company member with Fiasco Theatre, a New York-based professional theater company founded and run by Brown/Trinity Rep alumni.
Charlie Hudson III '07 is currently in the NBC series Manifest after a year of theater work culminating in an acclaimed production of Little Rock at the Alabama Shakespeare Festival.
August 2020 Update: Since the original post, Charlie has played Mister Carter in King Hedley II at Two River Theater, Lou Butler in (A) Loft Modulation with American Vicarious Theater Company. When performances resume following COVID-19 closures, he will be playing Gbenga in Nollywood Dreams at MCC Theater. He has also done work on television for P-Valley, For Life, and The Marvelous Mrs Maisel.
Gillian Williams '10 has a recurring role in the series David Makes Man (written by Oscar-winning writer Tarell Alvin McCraney) for Oprah Winfrey's OWN network. She has been previously seen in The Girlfriend Experience, The Knick, and The Good Wife.
Annie Worden '10 is the founder and artistic director of Stories 4 Strength and brought her organization to Nairobi, Kenya, working with over 60 children to build two original shows based on issues from the children's lives. In the project's teaching artist company was fellow '10 alumna Cherie Corinne Rice.
Vichet Chum '11 was awarded a prestigious Princess Grace Playwriting Fellowship (for emerging theater, dance, and film artists) to support his continued work as a writer/actor. He recently debuted an original one-man show Knyum at Merrimack Repertory Theatre.
Nikki Massoud '14 most recently played Emmy in a production of A Doll's House Part 2 directed by Les Waters, which toured to Berkeley Rep and Huntington Theater Company. She appeared in Theresa Rebeck's new pilot The Russian Cousin, which premiered in September.
Floredelino Lagundino '15 was the recipient of the 2018 SDC Sir John Gielgud Classical Theatre Directing Fellowship and the 2017 Drama League New York Directing Fellowship.
Andrew Polec '15 is starring in the national tour of the musical Bat Out of Hell. Andrew originated the leading role in London's West End, receiving the 2017 Joe Allen Best West End Debut Award.
Jessica Ko '16 returned for a second season as a company member at the Oregon Shakespeare Festival, in Snow in Midsummer, and two productions of Henry V.
Nicole Villamil '16 is currently understudying the lead role in Network on Broadway and has gone on for the role, acting alongside Bryan Cranston. She played the role of Sheila in the Broadway production.
Kyle Vincent Terry '16 co-starred with Tony Award nominee (and Trinity Rep Conservatory graduate) John Douglas Thompson in Michael Cristofer's Man in the Ring (directed by Michael Grief, Rent) at the Huntington Theater Company.
Ashley Teague '17 is the founding Artistic Director of Notch Theatre Company, a community-engaged nonprofit that seeks to drive change around the pressing issues of our time. Ms. Teague is the co-creator of Too Wild to Drill: An American Odyssey, a public storytelling project based on narratives of public land gathered in rural communities in the US.
David Samuel '17 was cast in the role of Mr. Beauregarde in the First National Tour of Charlie and the Chocolate Factory.
Needless to say, we are also proud of the graduates who are now members of our resident acting company — Daniel Duque-Estrada '13, Mia Ellis '12, Rebecca Gibel '10, Jude Sandy '09, and Charlie Thurston '12 — and whose careers extend far beyond Trinity Rep. Plus we are thrilled to welcome back graduates who have appeared in recent Trinity Rep productions, like Tina Chilip '06 (The Song of Summer) and Octavia Chavez-Richmond '18 (A Christmas Carol and Marisol), or directed them, as in the case of Tiffany Nichole Greene '11 (Skeleton Crew), Taibi Magar '14 (The Song of Summer and next season's world premiere of The Prince of Providence), and Whitney White '15 (Othello).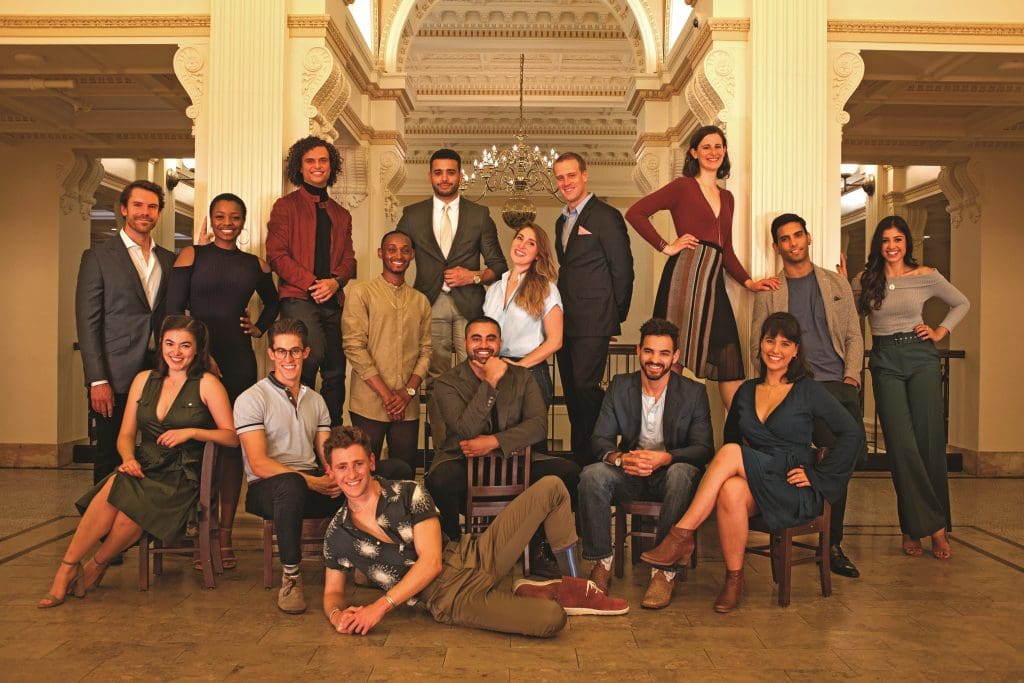 From LA to New York to London and beyond, our alumni are taking the theater world by storm. Keep an eye out for our Brown/Trinity Rep alumni and the projects they're working on!
After returning from successful showcases in New York City and Los Angeles, where they impressed agents, casting directors, and others in the realms of theater, film, and video, the Brown/Trinity Rep MFA Acting class of 2019 (pictured above) is ready to face the world. Our best wishes go out to (standing left to right) Brendan D. Hickey, L'Oréal Lampley, Alexander De Vasconcelos Matos, Antonio Michael Woodard, Ryan Broussard, Katie Croyle, Teddy Lytle, Elizabeth Lewis, Aman Soni, María Gabriela Rosado González, (seated) Olivia Miller, Louis Reyes McWilliams, Evan Andrew Horwitz, Viraj Gandhi, Will Adams, and Anita Castillo-Halvorssen. Not pictured are 2019 Directing graduates Addie Gorlin and Ken-Matt Martin, from whom we also expect great work!