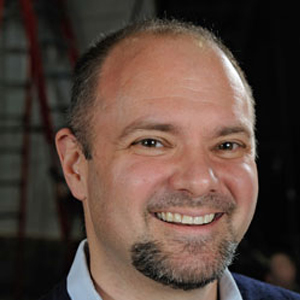 Every week on the Trinity Rep blog we have a quick note, thought, idea, or message from our Arthur P. Solmon and Sally E. Lapides Artistic Director, Curt Columbus. Join us each week for the newest post in "To my friends, from Curt."
Dear Friends,
I thought I should let you know that we have begun reading plays for the 2018-2019 season. I know, we just started the current season! But this kind of long-range planning is crucial in the theater where, where we have limited resources and, therefore, need lots of time to plan. It also forces us to be more deliberative about what our audience needs, and what the world will be like in the next year.
We start by reading new plays, generally, especially the ones that we have been commissioning through our new plays initiative that is supported by the amazing Steinberg Charitable Trust. We have several new works that are far along in development, including a new play by the amazing Lauren Yee (who just won the 2017 Kesselring Prize!) and another one by the equally amazing Joe Wilson Jr. (who is completing his prestigious Fox Fellowship and will soon be rehearsing Scrooge). Both are big contenders for 2018-19, and both deal with the idea of fame and its cost.
It started us wondering, whether the subject of fame will come up more often for us as we move through the next several years. America is obsessed with fame; in fact, the pursuit of fame has infected every level of our society now. I will keep you posted as we read more plays and the next season begins to take shape. I look forward to seeing you all in the theater for our Fall Rep. 2017-18 season is off to a great start.