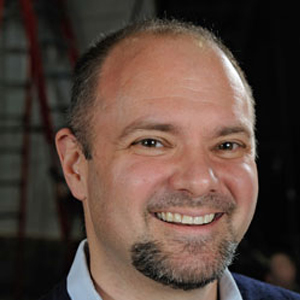 Every week on the Trinity Rep blog we have a quick note, thought, idea, or message from our Arthur P. Solmon and Sally E. Lapides Artistic Director, Curt Columbus. Join us each week for the newest post in "To my friends, from Curt."
I just watched a run thru of Dominique Morriseau's Skeleton Crew in the rehearsal hall and was blown away by how rich and resonant the play is. Watching Faye, the protagonist of the play, talk to Reggie about the pride his mother felt when she saw her son dressed in a button down shirt, knowing that he had succeeded, struck me really hard and deep.
I thought of my own father, who labored with his hands his whole life, and the opportunities that I was given because of his hard work. And at the end of the play, I found myself thinking that I never thanked my dad, or my hard-working mom, enough for what they gave me. You don't think to thank them, until it's too late. Here's to our parents, and here's to Skeleton Crew for giving me this thought. I can't wait for everyone to see it.