10/29/19
You might be surprised how much of an impact the donors to our Annual Fund have. Numbering over 2,000 households, individual donors contribute more than any other category of supporters — exceeding business, foundation, and government support. Thanks to the generous support of these donors, Trinity Rep has built upon its dynamic past and is poised to reach new heights. The support of Trinity Rep donors has a direct impact on our ability to:
Produce Plays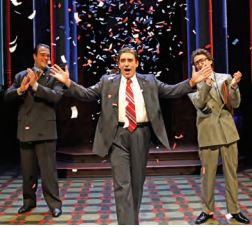 Because we are committed to affordability and excellence, ticket sales cover only about half the cost of producing the innovative and captivating shows that you see on stage each year. The balance is underwritten by our generous donors. Shows like the talk-of-the-town The Prince of Providence, Brian McEleney's tour-de-force performance in An Iliad, the inspiring and stirring production of Ragtime, and today's A Christmas Carol, which builds on more than four decades of creating family holiday memories and traditions, would not be possible without the charitable support of people like you.
Develop New Plays
Trinity Rep's new play development and commissioning initiatives play a critical role in developing and cultivating the great new plays of the American theater. Annual Fund support helps us to identify exciting new voices, connect them to Trinity Rep with commissions, develop their work through workshops, and ultimately produce the best of the resulting plays. Several of the plays that premiered here have gone on to life outside of Providence on stages around the country, like Into the Breeches! by George Brant (who also wrote The Prince of Providence), which has been produced by 9 theaters since its 2018 premiere at Trinity Rep.
Create Educational Opportunities
Trinity Rep's education programs are a significant beneficiary of the generosity of Annual Fund donors. Student tickets for Project Discovery student matinees are significantly discounted or free of charge and provide opportunities for over 15,000 students each year to see professional theater that is integrated with their curriculum through in-class workshops and study guides. Our supporters also make it possible for students of all ages and backgrounds to access arts education, workforce training, and after-school or summer learning programs that have become national models through accessible pricing and scholarships. We are also leading the nation in combining the arts with healthcare initiatives, especially for children and adults on the autism spectrum.
Connect with Our Community
The growth of Trinity Rep's community engagement efforts can be directly tied to support provided by Annual Fund donors. Over the past several years, we have expanded our ability to reach under-served and under-represented populations through programs like America Too, which puts the voices of our community on the stage, and Teatro en El Verano, which tours bilingual Shakespeare productions around the state. Both of these programs are provided at no cost to the participants or the audience. Even more than specific programs like these, Trinity Rep is proud to catalyze civic and community dialogue, creating a welcoming space for conversations and action.
Train the Next Generation
Brown University and Trinity Rep are well known (and ranked in the top 5 in the world) for our joint MFA programs in acting and directing. Graduates of these programs can be seen on television, film, and stages around the country, and at the helm of some of the country's leading theater companies. Our training of the next generation of theater leaders and artists doesn't stop there, however. We invest in comprehensive internships that give college graduates hands-on training in administrative, artistic, and production fields that position them for the next phase of their career. Our Teen Ambassador program gives current high school students opportunities to develop leadership and analytic skills throughout their year-long program.
Support Our Region
Trinity Rep is a linchpin of Providence's arts and entertainment district, providing over $13 million in direct and indirect economic benefit annually in the surrounding community. We employ over 275 artists, educators, and administrators, making us one of the largest employers of artists in the region. In addition, Trinity Rep provides area residents and visitors with opportunities to experience and participate in creative expression that builds 21st century skills in empathy, self-esteem, teamwork, conflict resolutions, and critical thinking.
Without the philanthropic support of people like you, none of this would be possible. We are grateful for the support of our donors and invite you to learn how contributions to Trinity Rep can benefit you, too. We are happy to recognize and thank our donors with an array of benefits that include exclusive access, special invitations, and perks, where you can see your charitable support in action. Learn more at trinityrep.com/support or call (401) 453-9235 for more information.