Although our 2019-20 Season interns have returned home due to COVID-19, we still want to introduce you to them to honor the hard work they put in during the season (and because they're very cool people).
Meet our Stage Management intern, Ashmita Malkani. She graduated from Emerson College, where she got her BFA in Stage and Production Management, with a double minor in Poetry and Women's, Gender, and Sexuality Studies. She is currently working towards her MFA in Creative Writing with a concentration in poetry at Salve Regina University.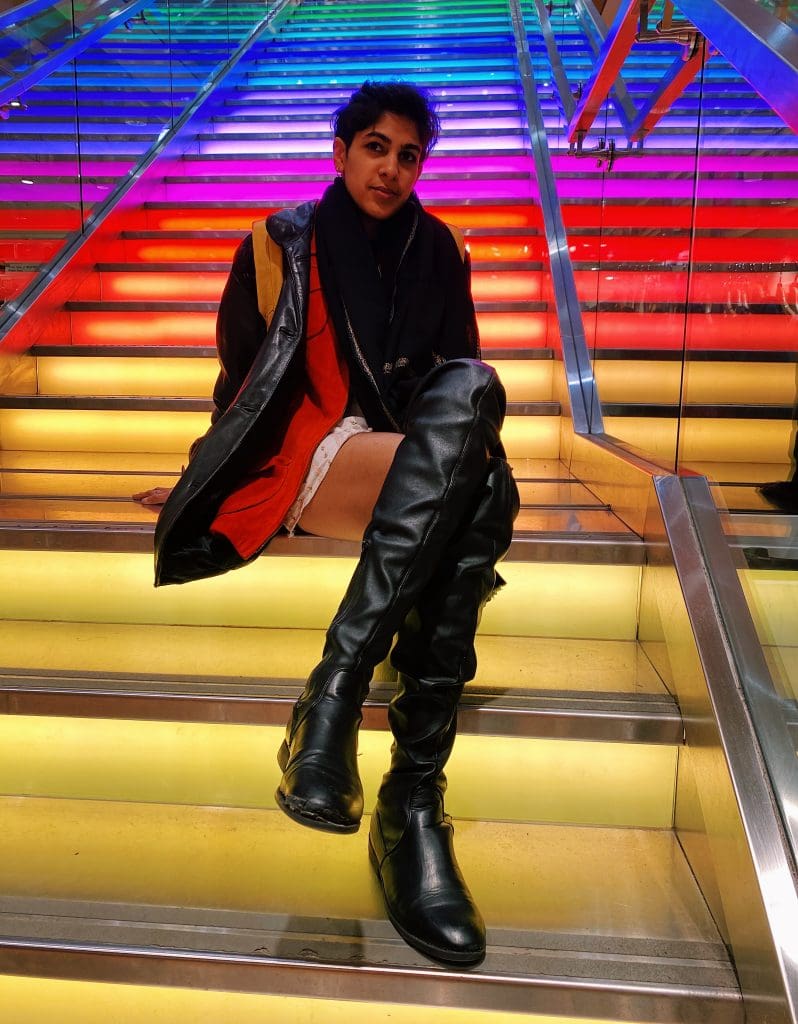 Audrey Rowland: I know we both enjoyed living in Providence, but where is home for you?
Ash Malkani: That is a complicated question for me. I grew up, for the most part, in Singapore. My parents are from India, and I definitely consider myself to be Indian, but I was born in Hong Kong and moved around a lot as a kid.
AR: What does theater mean to you? Why is it important?
AM: As someone who doesn't really have an answer to the question "Where are you from?," theater has always been a community that I've been able to rely on. I know that no matter where I am, I can go to these places and find queer people and liberal people and people who think like I do and who are passionate about telling stories. It's always been a safe place for me, and a place where I get to express myself creatively and meet people who share my values in that way.
AR: What did you want to be when you were growing up?
AM: I wanted to be a lot of things. There was a period of my life when I very strongly wanted to be a horse. I wanted to be a marine biologist. I wanted to be a farmer. Then I found out that I was lactose intolerant, allergic to eggs, and gluten intolerant. I worked at a vegan bakery for a while, and I thought about working as a baker. I wanted to be a writer. There were so many things that I wanted to be.
AR: What's your favorite theatrical production?
AM: The hard part about working on shows all the time is that I never really get to see anything, because theater all happens at the same time. When I was a kid, I was really in love with We Will Rock You, the Queen musical that was in the West End. I think that Queen is magical. Freddy Mercury is an angel.
AR: There's a lot to do and not a lot of time in stage management. What do you like to do when you do have free time?
AM: I read a lot. I'm currently in the middle of Tipping the Velvet, by Patricia Highsmith, which is about lesbianism in the 1800s in England. I'm super into it. I really enjoy grocery shopping. There's something that's so wonderful about going to a grocery store and looking at all the items in front of you and knowing that you could have any of these things. It's also fun to look at something and be excited to eat this later, or cook this later, or share this with a friend later.
AR: On that note, what does an average day as the Stage Management intern look like? Is there an average day?
AM: Average days exist. I get assigned a show, and then we have prep week, and then we'll go into rehearsals. During the run of A Tale of Two Cities, an average day looked like this: wake up, go to the theater, sweep and mop the stage, preset for the show, which means that I make sure that props and things like that are where they need to be, do fight call, where the actors rehearse any choreographed fights that take place during the show, and run the performance. Then, after the show, we cleaned up all the books used on stage during the performance, pick up all the pieces of paper that are thrown around the set during the show, take a look around, and give Kristen, the Production Stage Manager, any notes we might have. I am stationed backstage during the show. If people are running off stage, and they have a teacup in their hand and they need to enter in five seconds with a fan, we will take their teacup and hand them a fan. We open doors, we run fly systems, which are overhead systems that help us to lift set pieces that move during the performance, we confirm cue lights. We are prepped and ready for pretty much anything. 
AR: Any good backstage stories?
AM: During A Christmas Carol, there was definitely a lot of tomfoolery. A lot of shenanigans backstage. There were cardboard cutouts of Jude Sandy as Scrooge, and Stephen Thorne, who was also in the show, would find a new way to hide that cardboard cutout of Jude Sandy every single day. He would hide prop lettuce around the set. There was one day that Jack Dryden, who played Topper, came off stage, and Stephen Thorne jumped out and scared him so badly that he fell flat. He proceeded to find a new way to jump out at Jack every single day after that day. 
AR: How has working on each production been different?
AM: I get assigned different responsibilities. When I came in, I went right into tech, the week where we make sure all the technical elements work, for The Prince of Providence. I was in charge of the script change log during tech. I was on-book and took line notes, which essentially means following along with the actors and seeing where they deviate from the script. Then for A Christmas Carol, I took over the props preset, which tells you where everything needs to be at the top of the show so that when an actor comes off looking for that teacup or that pan they need, they know it's going to be in the same place every time. For A Tale of Two Cities, I did the enter/exit plot, which lets the wardrobe supervisor and run crew know where people are at any moment of the show. 
AR: And last, but not least, what's a fun fact about you?
AM: I am very attached to the pen that I use. I bulk order it from Amazon. It's the EnerGel Liquid Ink, and it just writes really smoothly. I've written some of my best work with this pen, if I do say so myself. It's something that I bonded with The Prince of Providence playwright George Brant about, because he also really likes his pens. He uses a 0.5 though, and I love a 0.3.