9/5/2019
2018-19 Season in Review
Trinity Rep is experiencing unprecedented programmatic and financial success, and that is due in no small part to you. Thank you for your support and patronage during the 2018-19 Season. We've reached this point because people like you came together and decided that this theater will thrive only if our core values – Company, Community, and Education – receive planned, sustained support. When you donate to Trinity Rep, you are a partner in our mission of reinventing the public square. The Board and staff take very seriously the effective stewardship of your charitable investment in our not-for-profit endeavor, and deeply value our relationship with you. Therefore, as we begin a new season of world class theater and educational programming, I wanted to the share with you the impact of your philanthropy on Trinity Rep and Southeastern New England. You are what make Trinity Rep a home for dramatic discoveries, bursting with activity that feeds the soul and inspires dialogue through unparalleled theatrical experiences. Your enduring faith in our work is an inspiration to all of us.
Company
The 2018-19 Season – featuring stories of gods and demons, angels and icons – was larger than life, telling stories that were both epic and intimate. Thank you for being a part of one of our biggest seasons ever, and the highest selling since 2004. The season opened with an effervescent and whimsical new adaptation of Pride & Prejudice. With over half of the performances sold out, this production played to over 90% capacity and was the highest-selling comedy since the 2009-10 Season. During the holidays, our annual production of A Christmas Carol became the highest-selling and most attended show in Trinity Rep's 54-year history, playing to near-capacity crowds (sales for this season's version are trending even ahead of that, so get your tickets early). Featuring different community choirs in each performance (over 1,000 community performers), the production also raised over $57,000 for the Rhode Island Food Bank.
The New Year began with an epic, once-in-a-lifetime combination: the absolutely breathtaking black odyssey, directed by and featuring company members Jude Sandy and Joe Wilson, Jr., followed by Brian McEleney's tour-de-force performance of An Iliad. An Iliad became the highest-rated production by audience members since we began regular post-show surveys three years ago. Curt Columbus' thrilling production of William Shakespeare's Macbeth introduced over 2,500 students to the power of live theater. Audiences then embraced our 70th world premiere, Lauren Yee's The Song of Summer, which will have continued life beyond Providence in a number of productions around the country. Tyler Dobrowsky then infused so much fun into the locally set and perennially popular Little Shop of Horrors. The season concluded with Brian Mertes' primal and poetic production of Marisol by Obie Award-winning playwright José Rivera.

The work and performances of last season were recently recognized with fourteen Motif Theater Awards:
Musical of the Year (Professional) – Little Shop of Horrors
Best Director of a Musical (Professional) – Tyler Dobrowsky (Little Shop of Horrors)
Male Lead in a Musical (Professional) – Jude Sandy (Little Shop of Horrors)
Supporting Male in a Musical (Professional) – Stephen Thorne (Little Shop of Horrors)
Female Lead in a Musical (Professional) – Rebecca Gibel (Little Shop of Horrors)
Production of the Year (Professional) – black odyssey by Marcus Gardley
Best Director of a Play (Professional) – Jude Sandy and Joe Wilson, Jr. (black odyssey)
Male Lead in a Play (Professional) – Joe Wilson, Jr (black odyssey)
Female Lead in a Play (Professional) – Octavia Chavez-Richmond (Marisol)
Best Costume Design (Professional) – Kara Harmon (black odyssey)
Best Lighting Design (Professional) – Cha See (Marisol)
Best Sound Design (College) – Michael Costagliola (tick…tick…boom!)
Favorite New Work – The Song of Summer by Lauren Yee
Best Concessions (Recognized for the third year in a row. Last season, we changed all of our offerings to Rhode Island-based food and beverage)
Education
In addition to our mainstage and Brown/Trinity Rep productions, Trinity Rep's education and accessibility programs served over 20,000 people of all ages through Project Discovery student matinees; Young Actors Summer Institute camps and workshops; Creative Classrooms in-school arts integration programming; Trinity Rep Active Imagination Network's arts clinical services for people on the autism spectrum and with other cognitive and physical disabilities; sensory friendly performances; school-to-career workforce training and internships; classes for youth and adults; accessibility programming like open captioning, which expanded to three performances per production; in-school residencies; free pre-show Prologues; and post-performance discussions. Our academic partnership with Brown University also continued to deepen, as the MFA programs became tuition free, ensuring that we will continue to attract the world's most talented young actors to this now #4 ranked graduate program in the world according to Hollywood Reporter.
At the annual Project Discovery Gala last fall, we announced that over $1 million has been raised for an endowment to ensure the permanence of the Project Discovery student matinee program at Trinity Rep. This first benchmark for the endowment project was spearheaded by Trinity Rep trustee Paul Choquette over the course of the past two years. Trinity Rep will continue to seek gifts to grow this endowment, which will ensure our ability to continue to introduce children to the power of live theater at little or no cost in perpetuity.
Community
As a flagship cultural institution and the state's largest arts organization, Trinity Rep is committed to serving this community, providing valuable programs and services in primary, secondary, and post-secondary education; healthcare; economic development; job training; civic engagement; creative place-making; and community building.
Our community engagement work expanded last season, as we founded the Center for Activism and Performance, with Joe Wilson, Jr. joining the staff part-time as Coordinator of Activism through Performance. After three years of catalyzing community conversations on police/community relations and immigration, America Too, a flagship program of the Center, focused on Providence's housing crisis through a free event in partnership with D.A.R.E. (Direct Action for Rights and Equality)'s Tenants and Homeowners Association.
In addition, Context & Conversation panel discussions in partnership with Providence Public Library provided opportunities for dialogue around the issues of each play. Last season, Trinity Rep was one of 20 organizations from around the world invited to participate in the inaugural cohort of OF/BY/FOR ALL, a community engagement research program formed to change the way people design, manage, fund, and engage with community organizations.
Our engagement with Rhode Island's growing Latinx community continued to deepen with our commitment to inclusion and equity on our stage, on our staff, and on our board, and the fourth season of Teatro en el Verano, touring a free bilingual production of William Shakespeare's Much Ado About Nothing (Tanta Bulla… ¿Y Pa' Qué?) throughout the state to Central Falls, Newport, Pawtucket, Providence, and Woonsocket in partnership with Rhode Island Latino Arts.
With all of the advancements in our community engagement work, we were excited to welcome to our leadership team this past summer our new Director of Community Engagement, Michelle Cruz, who will be responsible for establishing long-term partnerships between the theater and community stakeholders, and will play a critical role in the theater's artistic, educational, and community-centered initiatives. Sustained work in advancing equity, diversity, and inclusion and our investments in community engagement have positioned Trinity Rep well for ongoing transformation and development, both internally and externally.
Financial State of your Theater
Last season marked the second year of Trinity Rep's three-year strategic plan aimed at implementing a stronger business model that pursues a balanced budget through reliable, renewable sources of income and prudent expense management. Trinity Rep's strategic plan advances three goals – Great Art, Great Business, and Great Place to Be – through strategies and tactics in four key areas: Programming, Brown/Trinity MFA, Patron Development, and Facilities.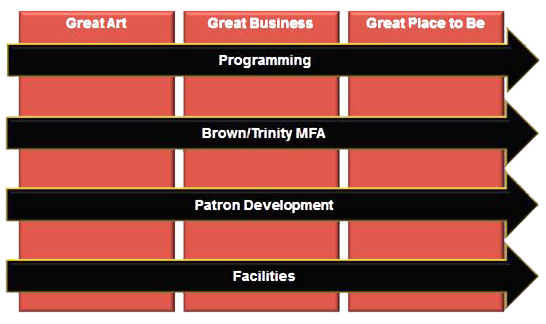 I am happy to report that these efforts are proving successful. After diligent work by the board, leadership, and staff to eliminate Trinity's long-time structural deficit and transform our business model, Trinity Rep is truly transitioning from surviving to thriving, and to making an even deeper impact in the community. Since 2015, Trinity Rep has broken multiple box office records, increased ticket-related revenue by 32%, and grown overall earned income by 30%. Subscriptions have grown each of the past three seasons, along with paid attendance. Annual Fund income has also increased by 63% since 2015. After generating positive operating cash flow for the first time in well over a decade in 2017 and ending 2018 with our first operating surplus (including non-cash depreciation expense) in twenty years, we were thrilled to operate in the black again in 2019.
Trinity Repertory Company's improved financial health and commitment to accountability and transparency have earned it a 4-star rating from Charity Navigator, America's largest independent charity evaluator. This is the first time that Trinity Rep has earned this accolade, and Trinity Rep is one of only five charities in Rhode Island to hold this distinction. Last fall, Providence Business News' Business Excellence Awards also recognized this progress, awarding Trinity Rep with Excellence at a Mid-Size Company.
Looking Forward
On the horizon, Trinity Rep's 55th Season promises something for everyone: the not-to-be-missed, sure-to-sell-out The Prince of Providence about Buddy Cianci; a wonderful dramatic comedy by Tanya Saracho, Fade; August Wilson's Radio Golf; the final work by this American theater icon; "the best of times and the worst of times" in A Tale of Two Cities; the award-winning hit Sweat by Lynn Nottage; and the musical masterpiece Sweeney Todd by America's greatest living Broadway composer and lyricist, Stephen Sondheim.
There is wonderful energy and momentum at your theater right now. You may have heard the news this summer that the Board of Trustees recently extended my contract for another four years, and I am honored by and thankful for your and the Board's continued trust and support. I look forward to continuing to partner with Curt, the Board, staff, artists, and you to achieve even greater artistic, educational, and community success. Together, we can elevate Trinity Rep to heights never-before thought possible.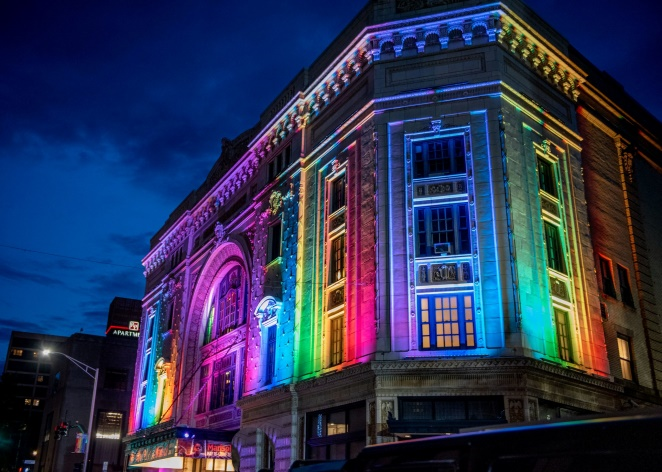 In a changing 21st century, our mission is timely and intentional: to reinvent the public square. We believe Trinity Rep can become an even stronger catalyst for dialogue, exploration, and creativity – a brave and dynamic community space, where individuals from all backgrounds can learn and grow together, for generations to come. As our world becomes increasingly divided and digital, it's all the more important to carve out physical spaces where we can come together as a community to hold civil discourse, celebrate our commonalities, bridge our differences, and forge a collective identity.
I hope you feel proud of all you helped Trinity Rep to accomplish this past year, and eagerly anticipate the exciting future ahead. You are an essential and valued partner in fostering a creative home for Rhode Island's artists, audience, students, and community members. Thank you for all you do to make Trinity Rep a success. As always, please feel free to reach out if you have questions or suggestions.
With deep gratitude,
Tom Parrish
Executive Director